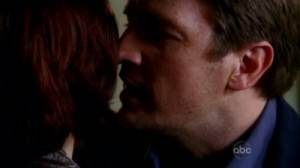 A couple of weeks ago I asked Castle fans which their favorite Caskett moments were, those in which the chemistry between the dynamic duo was so great that you felt like you could almost touch it. The response to that question was a little overwhelming. The original idea was to put together a top 10 of the best moments, but there were so many suggestions (and all of them so good) that the most I could do was narrow it down to fifteen and choose no particular order for them. You try ranking those moments and choose the very best. It's really hard, I'm telling you.
After that slideshow was posted, it was a tremendous success and lots of you were screaming bloody murder because some of your favorite scenes didn't make the cut. As promised, I bring you Castle Slideshow: When The Chemistry Between Castle And Beckett Is So Sizzling, It Almost Burns Through Your TV — Part 2.
Because, you know, there is no way we can leave it at only fifteen scenes, right?
Also, as you all know, Castle is on hiatus again and will only return with an all new episode on May 2nd, which means we still have three long weeks ahead of us without our favorite show to brighten up our Monday nights.
So here is what we're going to do: For the next three weeks, I am putting together slideshows about your favorite aspects of the show. Next week, we are covering the top 10 quotes. Of course Castle has tons of great one liners and narrowing it down to the top 10 is going to be a tough job. That is where you guys come in. See that comment area down here? Post your very favorite quotes there and the ones with the most votes will make the cut. Deal? Ok.
Now without further ado, let's check out those sizzling Caskett moments.
[imagebrowser id=958 template = flipped]