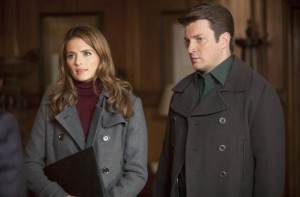 You know, I have a feeling next week's episode will be really, really good. The case of the week will frame the Mayor of New York City as the prime suspect and, given Castle's friendship with the guy – the mayor is the sole reason he had an all access pass to the 12th Precinct – it will obviously put our favorite dynamic duo in opposite sides of the investigation.
Although, in theory, "Dial M for Mayor" sounds awfully like last season's "The Final Nail" with the suspect of murder being a friend of Castle's, the stakes are much higher in next week's episode. I have a feeling that we will finally get some backstory on Gates and, if the sneak peeks are any indication, I think I'm finally warming up to her. That said, Castle and Beckett will face one hell of a challenge together and individually because it is going to be a really tough decision to make on both counts.
If they Mayor goes down, Castle's days as Beckett's shadow will be very close to an end so I think it will be really interesting to see how that will affect their relationship and what they are going to do to overcome it. I wonder if we are in for a big fight between them. What do you guys think?
Sound off in the comments.