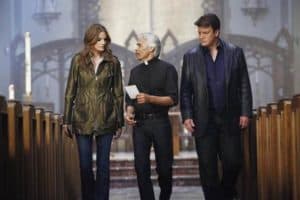 I don't know about you guys, but I am so ridiculously excited about next week's season finale that I can barely sit still for more than a few minutes. It's not just because it's the finale and, well, we won't have anything new to talk about until September, but it's more about the fact that I am finally happy about my favorite show again.
You all know how much I have complained most of this season (and I know a lot of you kind of dislike me because of it), but it feels that "Always" will put things back on track. I am sure most of you have seen the promo – especially the CTV one released last night that has the fandom in an uproar about one pivotal scene – so I have to warn you, the sneak peeks don't give much away. And you know what? It's better this way because we have already been given something huge with that promo and I don't think I want to be more spoiled than that. Do you guys agree?
Anyway, as we all know the May 7 season 4 finale will dive back into Beckett's mom's murder and we just might find out who shot Detective Kate Beckett last season. And of course, Castle and Beckett will SPOILER ALERT put their feelings on the table and I guess we'll see what happens. Given the glimpse we've got on that promo last night, there's not much doubt about what it going to go down next Monday night.
And I am so incredibly excited. How about you?