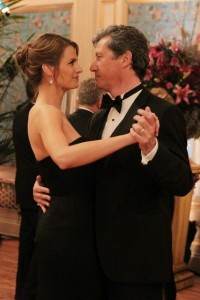 Well, this week's episode certainly left the fandom – and Castle – heartbroken, didn't it? It also split the fans' opinion on whether Castle's reaction to Kate's big secret was properly addressed and what the fallout of the secret and his reaction is going to play out in this last stretch of episodes until the season finale on May 7.
We have to wonder no more. The Alphabet Network made us sweat a little tonight on the expectation of these sneak peeks and I have to say I am definitely not disappointed. Particularly the clip that shows Kate and Lanie in the detective's apartment. See, Mr. Marlowe, that is an awesome use of Tamala Jones' screen time and it gives Lanie something else to do. I loved everything about that clip and I really, really hope someone is taking notes and will make it happen again as soon as possible.
Also, I have to share my excitement to see Charles Shaugnessy on Castle because my childhood fandom is colliding with my present fandom and I keep expecting to see Fran Drescher walk in and say "Mr. Sheffield!". Anyway, in next Monday's episode, titled "The Limey", a devilishly handsome detective from Scotland Yard, Simon Hunt (Brett Tucker, Off the Map, Spartacus), teams up with Castle and Beckett to find the person responsible for the murder of his friend's daughter. Meanwhile, Kate's confused about why Castle is so different with her and Lanie calls her out on the fact that they're crazy for each other.
Dr. Parish, I love you.
"The Limey" episode of Castle is scheduled to air next Monday at 10/9C on ABC.