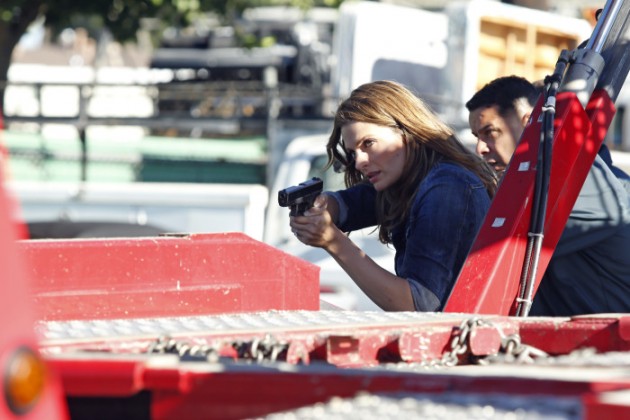 Castle fans, we're less than a week away until the series returns for its seventh season. However, even though the season seven premiere of Castle doesn't air until Monday night, we may have our first look at who is behind Rick's disappearance.
In the two clips below, which are both from Monday's season premiere, "Driven," Kate, along with Detectives Ryan and Esposito, are in pursuit of whoever ran Rick's car into the ditch in last season's finale. The first video shows the three detectives going over what's being done to track down the person responsible for this and discussing details of what happened prior to the crash. When Kate is asked if Rick sounded "off" or different in anyway when he called her before the accident, she responds by saying that he was just "normal."
While the first clip is a little light on the action, the second video is full of it, when Kate, Ryan, and Esposito track Rick's GPS to a car at a junkyard. Only problem? The car that is holding Rick's GPS (and what they also assume to be Rick with it) is being crushed into pieces. A distraught Kate spots a worker at the junkyard and tells him to freeze, but of course, he runs, forcing all three of them to chase him down until Kate finally catches up to the guy and tackles him. Could this man be one of multiple culprits that caused Rick's car to crash?
We'll have to wait and see for that answer until this coming Monday, Sept. 29, at 10 p.m. when season seven of Castle premieres. Until then, check out both of the sneak peak videos below.
[youtube http://www.youtube.com/watch?v=B4_Egj3GIoI]
[youtube http://www.youtube.com/watch?v=M2mgpUU5Zq8]
Photo via ABC