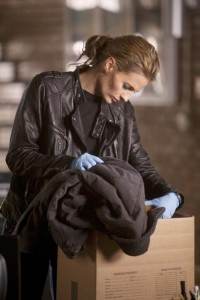 In tonight's highly anticipated episode of Castle, Detective Kate Beckett will have to face her own demons when a sniper killing apparently random people in New York City triggers severe symptoms of Post-Traumatic Stress Disorder (PTSD) in the detective. The last we saw her show any symptoms was in the season 4 premiere "Rise", but this time, Beckett will need all the help she can get to overcome this. I had a chance to watch "Kill Shot" last week and you can take a look at a preview, promotional photos and sneak peeks.
Tonight's episode will bring a major turn point for Detective Beckett and actress Stana Katic, whose performance is nothing short of breathtaking in "Kill Shot", recently talked about several aspects of her character, including her relationship with Castle.
"I think she's finally coming to a space where she's ready to dive into something like this and be fully committed to something, like a relationship with Castle, in spite of the fact that she might never get the answers she is looking for. (…) They're right at the point of being together, which I can't wait for. I think they're perfect for each other." Katic said in an interview.
The actress also teases the upcoming midseason finale "Cuffed", in which Castle and Beckett will find themselves handcuffed to each other with absolutely no memory of how that happened, and how she is really enjoying the development of her character in season 4. Take a look at the videos below for the complete interview.
"Kill Shot" airs tonight, November 21, at 10/9C on ABC.