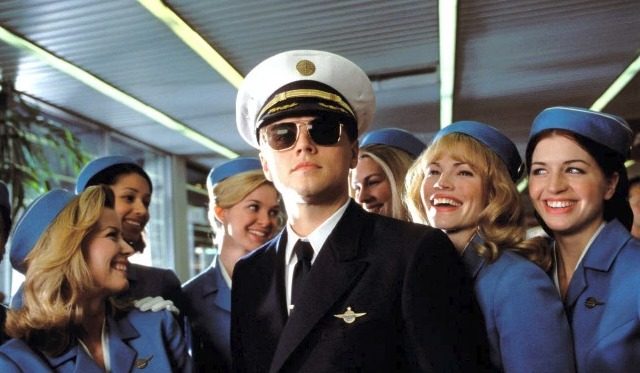 Catch Me If You Can is the story of Frank Abignale Jr., as is said in the film, and his rise to fortune and ubiquitous fame as an expert con man that defrauded many people for millions of dollars in his time. He was a master at forging checks, taking on other identities, and in general leaving no trace of himself when the FBI began to home in on his activities. He was eventually caught, but it took some time before his expensive antics came to an end. But if you like this movie then here are a few that are similar in ways that you might enjoy.
Just imagine that he was a kid when he started all this stuff.
5. American Hustle
Everything is a big con in this movie, including the emotions that rest between the actors. There's almost nothing that's counted as taboo in this movie as people make back alley deals almost as easy as they take each breath. It's a gritty tableau of some of the worst that humanity has to offer from beginning to end as the people in this movie just behave horribly and don't tend to care whether what they do or say hurts those around them.
4. The Terminal
Just imagine being stuck in an airport for days and even weeks on end. Victor was a man without a country, a man that no one would claim since his own country had suffered a coup while he was in the air. JFK became his home for a while simply out of bad luck as the head of Homeland Security was dying to give him some reason to make a run for the front door so that he'd become someone else's problem.
3. The Departed
Secrets heaped upon secrets make up the basis of this movie since by the end you can't even imagine who's really working for who and what kind of double life each and every person is trying to live while they attempt to play the role given to them. It seems like it would be confusing to lead a life such as this where you couldn't be certain just who was on your side and who you had to watch out for.
2. The Sting
The art of the con is a beautiful thing when it's put into motion, but it's like a confusing game of chess in which you can't see half of the board unless you're looking very closely. Of course if you happen to be looking that close you might tip your hand a little too much and the con will be over. In this kind of game it's best to simply know that when working with other con men you're likely to get fooled at least once.
1. The Wolf of Wall Street
Despite not being entirely true to the real life and times of Jordan Belfort this movie did show the ups and downs of Wall Street as those that control the cash flow for so many when it comes to stocks and bonds aren't all crooks, but they're sure perceived that way. It'd be hard to trust anyone that lives this way while taking advantage of others that they're supposed to be looking out for.
Sometimes life is just one big con.