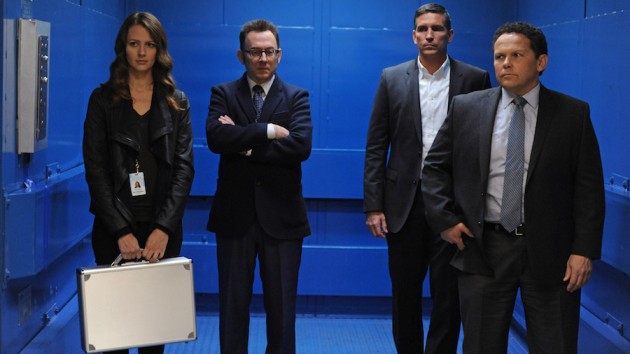 CBS didn't need The Machine's help  in making this decision. The network has renewed Person Of Interest for a fifth season. Joining Person Of Interest in CBS' renewal announcements are fellow long-running CBS series, such as Hawaii Five-0 and The Good Wife, along with two of the network's freshman series, CSI: Cyber and The Odd Couple. CBS renewed 15 series in total.
In addition to Person Of Interest, Hawaii  Five-0, The Good Wife, CSI: Cyber, and The Odd Couple, CBS also ordered new seasons of Elementary, NCIS, Blue Bloods, NCIS: Los Angeles, Criminal Minds, Survivor, Undercover Boss, The Amazing Race, 60 Minutes, and 48 Hours. The network had already previous renewed freshman series Madam Secretary, NCIS: New Orleans, and Scorpion, along with four of its returning comedies, The Big Bang Theory, Mike & Molly, Mom, and 2 Broke Girls.
Unfortunately, it hasn't been good for all of CBS' shows. Late last week, the network cancelled freshman dramas Battle Creek and Stalker, as well as first year comedy The McCarthys. Battle Creek still has three more episodes remaining (which will continue to air on Sunday nights at 10 p.m.), while Stalker airs the first of  its finale two hours tonight at 9 p.m. The McCarthys aired its last new episode back in January.
And from reports, fans of CSI don't have to worry about the long-running series (which just wrapped up its 15th season back in February) joining the group of cancelled CBS shows. The network is reportedly finalizing plans to bring CSI back for an abbreviated 16th and final season.
Which CBS series are you most happy to see renewed? Comment below and let us know.
[Photo via CBS]