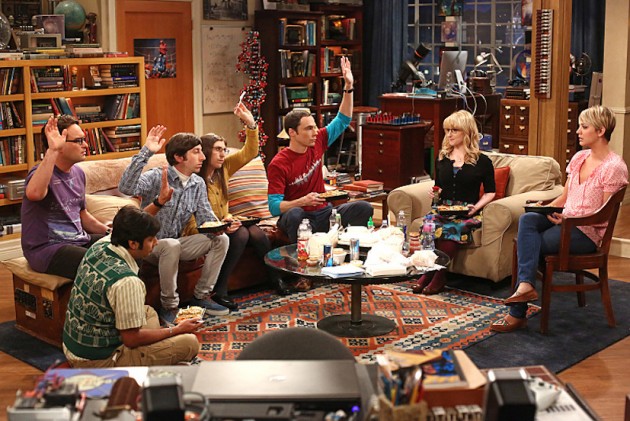 Springtime is now officially here, and with the better weather and the longer days comes the sad truth that most of our favorite TV shows will soon be going on their summer hiatuses. CBS is the most recent network to announced when its many hit shows, such as The Big Bang Theory, The Good Wife, and Scorpion, will all be wrapping up their current seasons. Although the Katharine McPhee-led Scorpion, which has already been renewed for a second season, will kick things off for the network, airing its Season 1 finale on April 20, the likes of Sheldon Cooper and Alicia Florrick will say goodbye for the summer a little bit later than that.
Check out all the season finale dates for CBS' shows below (which, aside from Scorpion, are all during the period of May Sweeps, which begins on April 23). Additionally, with all these finales comes a return date as well, as CBS has announced that its freshman drama Stalker, starring Dylan McDermott and Maggie Q, will continue its first season on Monday, May 4, at 9 p.m., before airing its finale two weeks later.
Thursday, April 30:Â Mom
Friday, May 1:Â Blue Bloods
Sunday, May 3:Â Madam Secretary
Tuesday, May 5:Â Person of Interest
Wednesday, May 6:Â Criminal Minds
Thursday, May 7:Â The Big Bang Theory
Friday, May 8:Â Hawaii Five-0Â (two-hour season finale)
Sunday, May 10:Â The Good Wife
Tuesday, May 12: NCIS and NCIS: New Orleans
Wednesday, May 13:Â CSI: Cyber (two-hour season finale)
Thursday, May 14: The Odd Couple (one-hour season finale ) and Elementary
Monday, May 18: The Amazing Race, 2 Broke Girls, Mike & Molly, Stalker, and NCIS: Los Angeles
Wednesday, May 20:Â Survivor (two-hour season finale, plus reunion show)
Sunday, May 24:Â Battle Creek
Which season finale are you looking forward to the most? The Big Bang Theory, The Good Wife, Person of Interest, or something else? Let us know in the comments below.
[Photo via CBS]