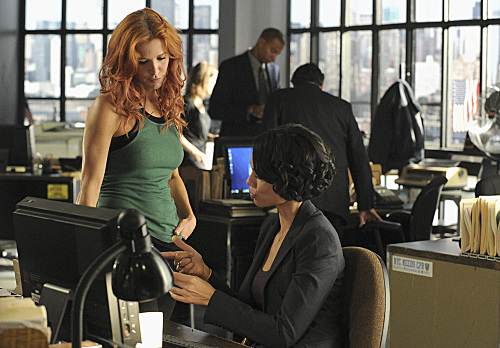 After extending the life of 2 Broke Girls following its big debut, CBS has announced that Unforgettable and Person of Interest, two of its freshman dramas, have been given a back nine.
Airing Tuesdays at 10:00 following NCIS: LA, Unforgettable stars Poppy Montgomery (Without a Trace) as Carrie Wells, a police detective afflicted with hyperthymesia, a condition that allows her to remember everything (except for the day her sister was murdered). The show also stars Dylan Walsh (Nip/Tuck), Kevin Rankin (Big Love), Michael Gaston (Inception), and Daya Vaidaya (Blue).
Created by Jonathan Nolan (The Dark Knight), Person of Interest finds eccentric billionaire Finch (Michael Emerson, Lost) and former CIA field officer Reese (Jim Caviezel, Passion of the Christ), two men presumed dead, teaming together to fight crime with the aide of a computer program. They're being tailed by Detective Carter (Taraji P. Henson, The Curious Case of Benjamin Button), though another detective in the NYPD (Kevin Chapman, Mystic River) is busy feeding Reese and Finch plenty of inside information. Person of Interest airs Thursdays at 9:00.
Unforgettable and Person of Interest join The CW's Hart of Dixie, The Secret Circle, and Ringer; ABC's Revenge and Suburgatory; NBC's Up All Night and Whitney; and Fox's New Girl as freshman fall shows to get additional episodes.
Do you think Unforgettable and/or Person of Interest will make it to a second season? How have you been enjoying both shows thus far? Which new series do you think is the next to get a back nine?