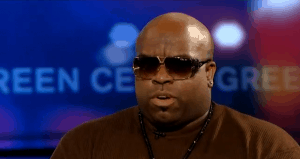 Tuesday's episode of George Stroumboulopoulos Tonight will feature an interview with one of my favorite musicians: Cee-Lo Green. Green, who along with producer Danger Mouse makes up the soul duo Gnarls Barkley, recently released his third (and absolutely fantastic) studio album The Lady Killer. Maybe you've heard his catchy viral single "F**k You" (it was, after all, featured on Glee last week).
Green was also a member of the Goodie Mob, a 1990's rap group considered a staple of the genre. Green, however, told Stroumboulopoulos in tonight's episode that he finds hip hop to be rather "limiting." That's the first video you can watch the below. The second focuses on the death of Green's mother and his sudden leap into maturity after that event.
Tomorrow night will feature the guest General Rick Hillier.