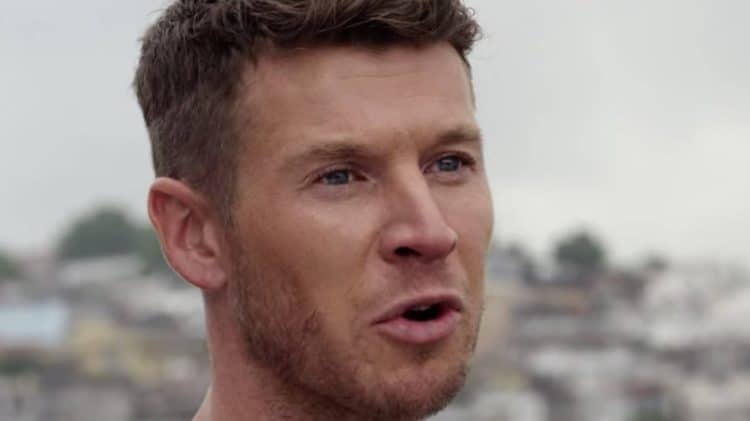 With more than 15 years of on-screen experience to his name, Chad has become a consistent presence in the entertainment industry. He currently has more than 50 credits on his resume and the list gets a little longer each year. Chad is best known for his role as Brandon Beckett in the Sniper film series, and he has helped establish himself as an action star. Although it doesn't appear that there will be another Sniper film, Brandon isn't letting that get in the way of his career moving forward. He has several other projects in the works and he's ready to show the world what else he can do. Here are 10 things you didn't know about Chad Michael Collins.
1. He Is A New York Native
When most people hear New York, they automatically think of the city, but Chad's New York is a little bit different. Chad was born and raised in Albany. He's very proud of his upstate roots althought he no longer calls New York home. These days, Chad lives in the Los Angeles area.
2. He Is A Voice Actor
Although Chad is most well-known for playing the same character over a long period of time, he has shown his versatility in other ways. Chad is a talented voice actor who has gotten a lot of attention for being the voice of Alex in the video game Call of Duty: Modern Warfare. Chad has recently also ventured into the world of audiobooks.
3. He Has An Account On Cameo
Chad has always loved connecting with his fans, and the internet has made it easier to do that than ever before. In addition to interacting with people on social media, Chad also has a Cameo account where he records and sells personalized video shoutouts. At the moment, Chad charges just $20 for a video.
4. He Loves Staying Active
Chad's chiseled physique is impossible to ignore and he has put a lot of work into making sure that he looks and feels his best. After all, when you spend as much time in front of the camera without a shirt on as he does, having abs definitely comes in handy. He loves staying active and he enjoys doing a variety of different workouts including boxing, martial arts, and weight lifting.
5. He Is A Brand Ambassador
Not only has staying active had great benefits for Chad's physical and mental health, but it also has also been pretty good for his pockets. Thanks to his love of exercise and his large following, Chad has gotten the chance to collaborate with some companies. Chad is currently a brand ambassador for a supplement company called BiOptimizers.
6. He's Been In Several Cop Shows
Prior to being cast in Sniper, Chad made several guest appearances on some well-known shows. It looks like he found his sweet spot in the world of police/crime dramas. Chad has been on quite a few law enforcement related shows including Blue Bloods, CSI, NCIS: New Orleans, and Major Crimes.
7. He Used To Work In Public Relations
Chad's path to becoming an actor wasn't as straight and narrow as some people's. According to an article in Forbes, Chad initially moved to Los Angeles to start a career in public relations. Like most people, however, he eventually found his way towards the entertainment industry. Once he started auditioning he never looked back.
8. He Is A Gamer
Being cast in Call of Duty was an extra special moment for Chad because he's a gamer himself. Chad told Forbes, "I've been a gamer my whole life. I'm an RPG and fantasy nerd at my core, but I love FPS games. It was a blast playing the original Modern Warfare trilogy; it's easy to see why fans are so passionate about the franchise."
9. He Doesn't Do Negativity
The world is full of negativity and it can be very easy to get wrapped up in it. Chad, however, has made a conscious choice not to allow negative people or things into his life. Instead, he prefers to focus on positive vibes and this mindset has proven to be very beneficial to him throughout his career.
10. His Major Career Goal Is To Have Fun
Awards and recognition are always nice, but neither of those things is what acting is all about for Chad. While talking to Chef Irvine Chad said, "my intention as an actor was to have fun. I've never been in this to chase trophies and trinkets and stuff to put on the mantle. I've been in this to have fun."