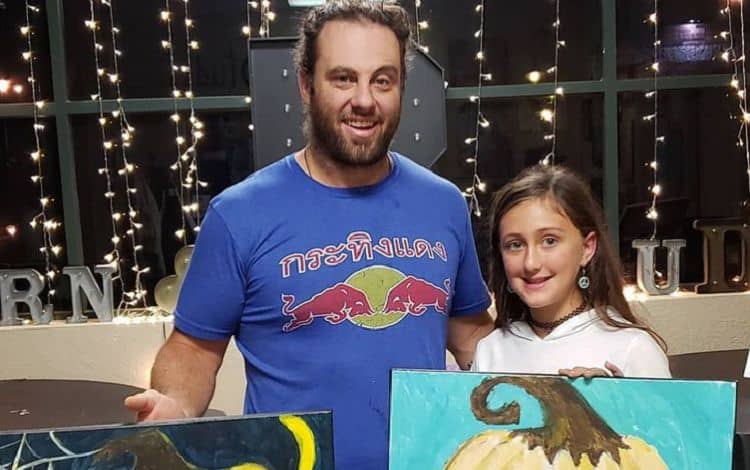 Chad Ollinger never imagined that he'd be a reality TV star, but thanks to the new Discovery Channel series, Mystery At Blind Fog Ranch, that's exactly what he's becoming. The show features Chad, his father, and a team of others as they search for treasure on property that Chad's father purchased in Utah. Hunting for treasure isn't all this show is about, however. According to legends, the land Chad's father purchased is haunted, and the crew sometimes finds themselves in some pretty spooky scenarios. While the work the crew is doing is the main focus of the show, Chad's fun and bright personality can't help but shine through. Keep reading for 10 things you didn't know about Chad Ollinger.
1. He Lives In A Bus
Yes, you read that right – but it's not anywhere near as bizarre as it sounds. After selling their home during the pandemic, Chad and his family moved into a renovated old school bus which they affectionately named Skoolie. Not only does the bus serve as their home, but it's also become his children's school.
2. He Had His Own Business
Before Chad started working with his father in Utah, he and his wife owned an aviation/crop dusting business in Texas. When Chad's father came calling with a new opportunity, they couldn't resist taking him up on the offer and packing up and moving to a new state.
3. He Was A Wrestler
Sports have always been a big part of Chad's life and he grew up wrestling. He continued with the sport all the way through high school. Chad's wrestling days may be a thing of the past, but he still brings that competitive and ambitious energy to everything he does. His son is now following in his foot steps as a
4. He Has A YouTube Channel
Chad may not fit the stereotype of a YouTuber, but that doesn't mean he isn't one. He recently started a YouTube channel called All in Ollies which will likely be a vlog style channel that chronicles his family's adventures. At the moment, he's only uploaded two videos. The channel currently has less than 200 subscribers, but that'll likely change as they continue to post content.
5. He's A Positive Person
Life is full of ups and downs and sometimes it can feel impossible to keep the downs from keeping you there. Despite that, Chad does his best to always see the bright side of things and he is the type of person who does his best to maintain a positive attitude and spread it to those around him.
6. He Doesn't Always Follow The Rules
To put it simply, Chad is a risk taker. He likes to go after what he wants and he doesn't let things stand in his way. During an interview with TV Show Ace, Chad said, "I guess I've kind of always had that personality in a way. I don't always follow directions the best."
7. Mystery At Blind Fog Ranch Is His Only TV Experience
Being on reality TV shows has become a legitimate job for a lot of people. Once they get their foot in the door, they just bounce around to as many shows as they can. Chad isn't that kind of reality TV personality, though. Mystery at Blind Fog Ranch is his first TV experience of any kind.
8. He Loves Dirt Bikes
Who doesn't love a good adrenaline rush every now and then? Chad certainly does and he gets more than his fair share of them. When he gets some time to let loose, he enjoys riding dirt bikes and luckily, he has plenty of space to ride without a care in the world.
9. He Likes To Play Hockey
Chad loves to stay active, but going to the gym isn't the only way he likes to get a good sweat in. Recently, he's started playing hockey and he's already fallen in love with the sport. Based on his Instagram posts, it appears that he's been playing in some sort of league.
10. He's Loving Being On The Show
Being on a reality TV is one of those experiences that can either be great or go horribly wrong. We've all seen and heard countless situations where these shows have really damaged people's personal lives. Fortunately, Mystery at Blind Fog Ranch isn't that kind of show. While talking to TV Show Ace Chad shared that he's loved the experience of filming the show and his wife and kids think it's great as well. They're all hoping the series will be brought back for another season.