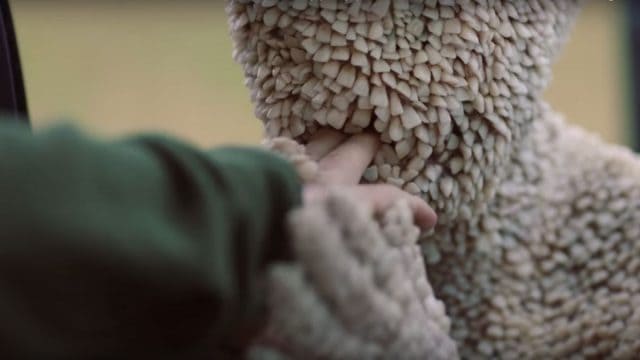 The series premiere of Channel Zero: Candle Cove on Syfy was easily one of the best premieres of the season, and people were left wanting so much more once the credits rolled. Another week has passed, so let's take a look at what happened in tonight's new episode, "I'll Hold Your Hand."
After finding out near the end of the premiere that the "Candle Cove" television show didn't really exist and that the kids were just watching static on a screen, Channel Zero's events are even more unsettling than ever. In the beginning of "I'll Hold Your Hand," Katie is spoken to directly by the puppets from the show, and a dark sense of foreboding starts covering everything we see. It quickly becomes worse once Katie attacks her brother, and Mike is drawn right back into everything that's happening. Luckily for him (and for the audience, because it's going to give us a lot more of Fiona Shaw), his mother decides to help him investigate "Candle Cove," something she's never been willing to do before.
I'm really enjoying just about everything with Candle Cove, but the thing that's sustaining me the most is the absolutely terrifying imagery on the show. We could talk about the tooth man all day long, but the "Candle Cove" television show itself is horrifying. I really love when these elements blend into the "real world," though, through Mike's dreams, and I'm impressed that the show is succeeding so well with this imagery without having to resort to jump scares. You're horrified by what you see (both with the scares and with the content of Channel Zero), but it's a kind of horror that eats at you (kind of like what the tooth boy does with teeth) instead of just happening and then moving on.
"I'll Hold Your Hand" does a lot for the story of Candle Cove. The episode slowed things down a bit from the premiere, but the actual narrative developments and reveals do wonders for the story. I know we're only a couple of episodes in, but my expectations for the story have already been completely upended, and there's a particular development with Mike's childhood that surprised me in a way that I never saw coming. As soon as the episode was over, I wanted to see what happens next.
The musical score in the episode is just as good as it was in the premiere, and I'm starting to think that score is Candle Cove's secret weapon. The way that we're drawn into this world through sound and music is extremely admirable, and other horror shows should make note of what Channel Zero is doing right with this. The show's use of color also continues to be very well-done, and I love getting to see that palette shaken up when we need to see something important (for example, when Mike's brother walks through the woods in a vision/dream, his red jacket makes everything stand out so much more).
"I'll Hold Your Hand" was a very strong follow-up to the spectacular premiere of Candle Cove. The mystery is starting to deepen even more than before, and my anticipation over what may happen next is the best feeling a person can have when watching television.
What did you think of this week's new episode of Channel Zero: Candle Cove? Let us know your thoughts in the comments down below!
[Photo Credit: Syfy]
Channel Zero: Candle Cove Episode 2 Review: "I'll Hold Your Hand"
Summary
"I'll Hold Your Hand" follows up Candle Cove's spectacular season premiere with a strong episode full of narrative revelations.