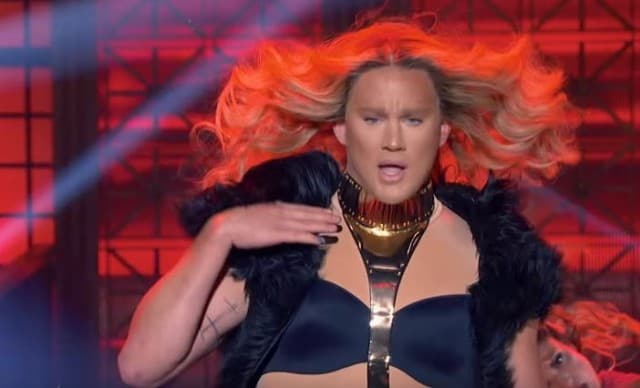 Channing Tatum has been getting a lot of praise in recent years for his acting in films, such as Foxcatcher, 22 Jump Street, and even, most recently, The Hateful Eight. However, I'm not sure if Tatum has ever given a better performance than the show he put on during this week's Lip Sync Battle on Spike. Although, the actor did have a little bit of help from the Queen B herself, Beyoncé.
Last night's Lip Sync Battle was a duel between spouses, as Tatum and his wife, Jenna Dewan-Tatum (who is currently recurring as Lucy Lane on CBS' Supergirl) went head-to-head in one of the show's most fun battles yet. It was kicked off by Dewan-Tatum's impressive, Magic Mike-inspired performance of "Pony" by Ginuwine, complete with a striptease for her husband.
But while Jenna Dewan-Tatum was certainly great, especially at showing off her dance moves (the couple did meet while starring in Step Up after all), Channing Tatum's rendition of "Run the World (Girls)" may have been even better, as the Hateful Eight actor donned a Beyoncé wig and women's clothes and showed off dance moves he never did in Magic Mike. His performance had already completely stolen the show, and then came Beyoncé's surprise cameo, which made the crowd absolutely lose it.
Watch Channing Tatum and Jenna Dewan-Tatum battle each other (with Beyoncé's help) in the video below, and let us know which performance you thought was better.
[Photo via YouTube]