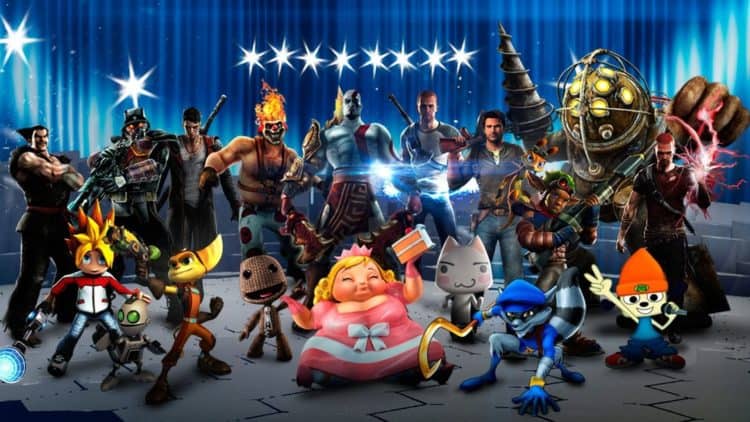 Playstation All-Stars Battle Royale is a crossover platform fighting game developed by Superbot Entertainment. In Playstation All-Stars four characters, all iconic Playstation heroes and villains, fight to knock each other out of the stage and gain a point. You build up All-Star Power by attacking other players and then use that to gain KOs. It was a simple formula that quickly became addictive. Not to mention that fans of Playstation were finally given a chance to see their favorite characters come together under one game.
Unfortunately, it didn't sell as well as Sony had hoped and talks of a sequel are currently non-existant. But with all the new series currently being introduced and their expanding roster, we hope that Sony can go back to the drawing board and introduce a sequel to the newer generations. The original was only released on the PS3 so it would be interesting to see what a title on the PS5 would look like and how many players that roster could handle.
Original Roster
Currently, the original has a roster of 24 characters which include:
Big Daddy from BioShock
Cole MacGrath from Infamous
Colonel Radec from Killzone
Dante from DMC: Devil May Cry
Emmet Graves from Starhawk
Evil Cole MacGrath from Infamous
Fat Princess from Fat Princess
Heihachi Mishima from Tekken
Issac Clarke from Dead Space
Jak and Daxter from Jak and Daxter
Kat and Dusty from Gravity Rush
Kratos from God of War
Nariko from Heavenly Sword
Nathan Drake from Uncharted
Parappa from PaRappa the Rapper
Raiden from Metal Gear
Ratchet and Clank from Ratchet and Clank
Sackboy from LittleBigPlanet
Sir Daniel Fortesque from MediEvil
Sly Cooper from Sly Cooper
Spike from Ape Escape
Sweet Tooth from Twisted Metal
Toro Inoue from Doko Demo Issyo
Zeus from God of War
Taking these into account we want to see some of the newer series put into Playstation All-Stars Battle Royale. Series like Horizon Zero Dawn, The Last of Us, Astro Bot, Bloodborne, and even the iteration of God of War. Here are a few characters we'd like to see added.
Aloy from Horizon Zero Dawn
Horizon Zero Dawn has become one of the flagship titles for Playstation with their iconic lead Aloy. We'd love to see what she could do in Playstation All-Stars. Her move set could make use of the iconic weaponry that she gains throughout the series and her traps. She would be a much more tactical character. Her ultimate could make use of the ThunderJaw and other creatures that she could take control of during the series. We'd also love to see a stage that takes place in the Horizon Zero Dawn world. The combination of technology and nature is mesmerizing and it could be interactive thanks to all the creatures that frequent the land.
Astro Bot from Astro Bot
Astro Bot became a hit thanks to the incredible gameplay is presented as a platformer. It would be great to see it in Playstation All-Stars because Astro Bot could make use of his platforming abilities to get the upper hand on their opponents. Their abilities could also make use of its gadgets to make sure that it is versatile enough for players to enjoy.
Ellie from The Last of Us
Ellie from The Last of Us would be a great addition because she is one of the most iconic PlayStation characters currently. After guiding her to safety in the original Last of Us, Naughty Dog allowed you to control her as one of the main protagonists for The Last of Us 2. Her skill set could include her bow and hearing capabilities. It could also make use of her maneuverability. We'd love to see a ruined Seattle as a stage as well.
Knack from Knack
Knack would be a great addition because of how different the character is compared to the other more humanoid characters. His abilities could make use of his ability to change size and come apart. We'd love to see him get smaller as he took more damage until he was finally so small that he'd get knocked out in one hit. This could be balanced by making his biggest form have great damage and torment the stage.
Atreus from God of War
We already have Kratos. Now we need Atreus. With his ability to use the bow and it's special status effects it could be interesting to see him do buffs and debuffs. This would have to occur after God of War: Ragnarok is released and if Atreus is a playable character. I don't think Santa Monica Studios would want the first playable iteration of their character to be in a crossover spin off title.
Nathan Hale from Resistance
Nathan Hale from the original Resistance series would be a great addition due to his unique abilities. Throughout the series Nathan Hale is a soldier that helps protect the world from the Chimera invasion. Unfortantely he is infected with the virus. This makes it so that towards the end of the series Nathan is able to use extraordinary powers before completely being overtaken by the virus. If his infected state was the abilities that were implemented into the game it would be interesting to see what they would be.
The Hunter from Bloodborne
The Hunter from Bloodborne would be a great addition and could be a character that is customizable. His main weapon could be changed out and change his skill set in doing so. He could function similarly to how the Pokemon Trainer functions in brawl. It would also be interesting to see if his costumes could be interchangeable and represent different outfits from the game.
Notable Mentions
Sam Bridges and BB from Death Stranding
Baldur from God of War
Selene Vassos from Returnal
Crash from Crash Bandicoot