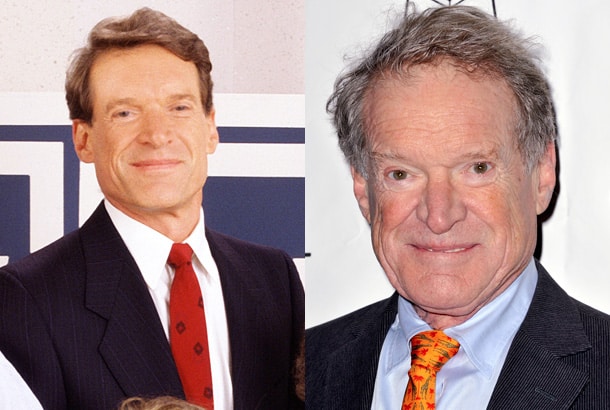 Charles Kimbrough is one of the many actors that you might still enjoy if you were watching him years ago since he's been around for a while. His style has been kind of straight-laced with many roles and as far as humorous appearances go he's been right there in step with those around him and just as professional as the lot of them when it comes to getting the job done. He does kind of look like the type of square-jawed individual that might be less humor and more business, but honestly he's been one of the better supporting actors of his time and is one of the many individuals that's been proven throughout his career when it comes to playing his part and not overreaching. Despite being a much older man now he's still one of those folks you can't help but think still has what it takes to provide a role when needed.
Here are a few things you might not have known about him.
10. He was in Murphy Brown.
Murphy Brown was at one point one of the hottest shows on TV and was one of those programs that you might watch just out of curiosity or simply because there was nothing else on and you wanted to laugh. But you can admit that you watched it at least.
9. He's coming back for the Murphy Brown reboot.
It would seem a bit odd to see the show come back and not have the original cast, or as many as they can possibly get, so Charles will be making his way back, but his character will be retired. That seems easy enough to work into a story arc since at this point most of the cast has to be pretty old.
8. He played the role of a gargoyle on The Hunchback of Notre Dame.
Victor was, of course, the voice of reason among the gargoyles, which oddly enough had no lower bodies and had to hop everywhere they went. It's funny that no one seemed to notice that they moved occasionally.
7. His career started in the 1950s.
Charles is an old timer that has been around long enough to see show business change in many different ways that many of the younger actors won't see for some time to come. Hopefully the changes still coming will be positive ones.
6. He's lent his voice to video games.
It's not too much to expect that those that have been around for a while would balk at trying something new, as many older actors have lent their voices to cartoons and video games and done quite well. To be honest it's a big treat to hear a big-name actor in a video game, there's a special feeling that comes from knowing that the producers of the game went that extra mile to get specialized voices for the characters.
5. His wife passed away due to lung cancer.
This had to be rough on Charles since no one wants to see their spouse fall ill and eventually pass on. The news of her passing wasn't reported right away, perhaps for a grieving period or perhaps because quite honestly it was no one's business but the family's.
4. He's been a stage actor as well.
Given when he started out you would almost have to think that he's stepped on stage more than once in his long career, and you'd be right. He's been very prominent on stage and has managed to rack up a few credits in his time as he's made quite the name for himself.
3. He's in his 80s.
To be up and mobile in your 80s is something that a lot of people find impressive since it means that you did something right in your life and your longevity is kicking in. Obviously he's not as quick as he used to be but at this point in life no one expects it. To think he's reached this age when so many others have passed on younger or around the same age is something to be proud of.
2. He was nominated for an Emmy.
This occurred during his time on the Murphy Brown show and it was a well-earned nomination since he was one of the more skilled actors on the set and was at almost all times on point and ready to go at a moment's notice. He was definitely the most serious of the bunch quite often but he played a nice counterpoint because of it.
1. He starred in a Broadway musical with his wife.
On one hand you could say that acting with family of any type would be easier since they know how to react to you, they understand your cues, and they're able to anticipate better. But on the other hand they also know how to get on your nerves a lot more. But it worked for them.
Seeing back on TV would be great.