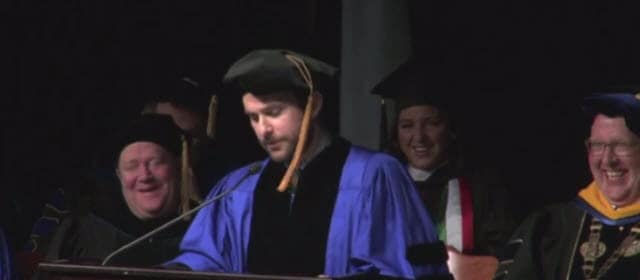 When you think of Charlie Day, you think of his character's illiteracy on It's Always Sunny in Philadelphia, and as such, he doesn't really seem like the prime candidate to give a college commencement speech. But Charlie Day, the actor, is a smart, talented guy, and Merrimack College was right to invite him to give their commencement address recently, a school that's his alma mater.
Day made jokes about getting an honorary doctorate from the school ("I plan to begin writing my own prescriptions immediately"), but had some serious words as well.
He shared a little-known story about how he was offered a role on a FOX sitcom called "Life on a Stick" right when he was shooting Always Sunny with his friends before it was an actual show. He chose to bet on his own success, and it paid off with ten seasons to date, while Life on a Stick lasted just five episodes (insert FOX jokes here).
"Don't wait for your break, make your break," Day said. "Go make it happen for yourself." If he hadn't, who knows if Always Sunny would have ever come together at all?
It really is a great speech, and I'd take a Charlie Day commencement over Obama any day. Check it out for yourself below, and stick around for the full twenty minutes. It's definitely worth it.