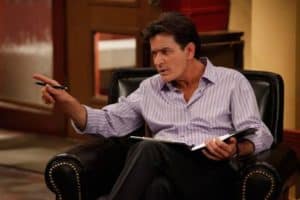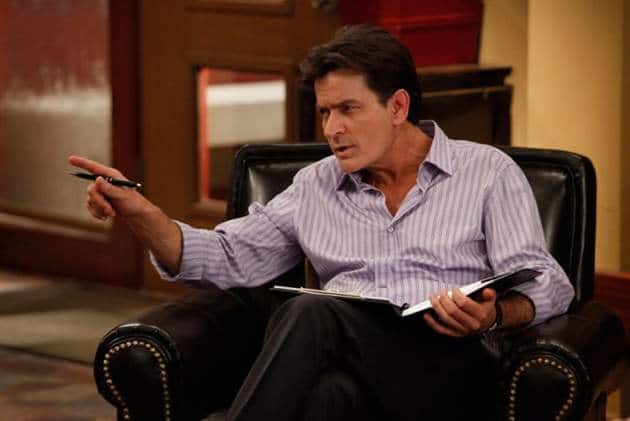 It's quite poetic, if not ironic, that Charlie Sheen's comeback to television after his fall out with CBS comes in the form of a thirty minute sitcom style show aptly called Anger Management. With such a highly publicized meltdown and, in the end, firing, audiences everywhere have to be wondering if the man with Adonis DNA can make viewers not only tune in, but love him again. The answer is, as it has always been with Charlie Sheen, ia resounding yes, at least that what FX is hoping.
Let's face it. The man is just plain charming and fun to watch. In his new show, which marks FX's only non TV-MA show (go figure), Sheen plays Charlie Goodson, a former baseball player whose temper cost him his career. After losing his shot in the major leagues, Charlie gets his degree as a therapist to help others with their Anger Management issues. Flash forward to many years later in which we find Charlie holding small group sessions in his home that consist of a somewhat amusing, if not annoying, cast of characters, all with their own anger management issues.
Also added to the mix, are Charlie's ex-wife, with whom he still has a love hate relationship, and his teenage daughter who suffers from OCD. Interestingly enough, this aspect of the show is a funny mix between 'Two and a Half Men's'Charlie and Allen Harper characters, with just enough of the womanizing male to make it funny, but a healthy dose of caring single father to keep him likable. Rounding out the Anger Management crew is Charlie's 'best friend with benefits'and fellow therapist, Kate, played brilliantly by Selma Blair.
Initially, the pilot episode seemed almost to be trying too hard, with a bit of a sense of urgency to make the audience like Charlie's character, however, after a bit of necessary back story, the show settled in to a groove that made you forget all the Charlie Sheen drama from a year ago. Anger Management has all the necessary components necessary for your stereotypical sitcom, which makes watching it feel very comfortable and reminiscent of, not only watching Sheen on 'Two and a Half Men,'but watching any sitcom you may have enjoyed before the era of reality TV took over.
Anyone expecting Charlie Sheen's comeback show to be new or groundbreaking will be disappointed, however, if you are simply looking for entertainment and a few good old fashioned laughs, you will probably quite enjoy it. Although it certainly seems as though it would be more of a fit on network television rather than the edgier FX channel, the network will most likely see ratings that will make the departure from the envelope pushing programming it is accustomed to worth it, and leave them 'winning'for now.
Anger Management premieres June 28th at 9pm, est on FX.