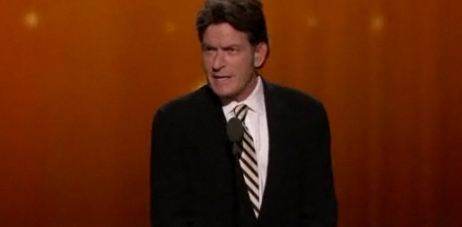 With the most predictable ending in history, The Emmy Awards had one genuine moment of suspense: finding out what Charlie Sheen was going to say once he took the stage. Sheen has been on a pretty extensive clean-up tour as of late trying to show the world that his Warlock days are a thing of the past, even referring to his manic stint of laughable catch-phrases as "Losing!". Sheen has no doubt been in damage control mode, apparently trying to mount a career reboot. His performance at tonight's Emmy Awards definitely put the finishing touches on those efforts. No doubt the big question now is: was Charlie Sheen being sincere? Watch for yourself:
With his antics of late, the words "… say a few words to everyone here from Two and a Half Men" seemed like the cocking of a gun. Was Charlie Sheen about to go into full out Tiger Blood mode and start cutting down his ex-boxx Chuck Lorre, and former co-star Jon Cryer, right there on the Emmy stage? Sadly, no. Charlie Sheen, for the first time in a long time, came across as the humble good guy Charlie Sheen most of us knew before his infamous meltdown. Sheen seemed to regard the show with great fondness in both the present and past tense.
Of course when Jon Cryer and Ashton Kutcher took to the stage they couldn't resist taking a few good-natured jabs at the Erstwhile Two and a Half Men star Sheen, who Kutcher is replacing, with Kutcher introducing himself as "Not Charlie Sheen" and reassuring Cryer that he did not think he was a Troll; a label Sheen leveled at Cryer during the beginning of his disintegration. Clearly it was no harm no foul, with Charlie Sheen posing with Ashton Kutcher back-stage for what would have seemed before today a very unlikely photo op.