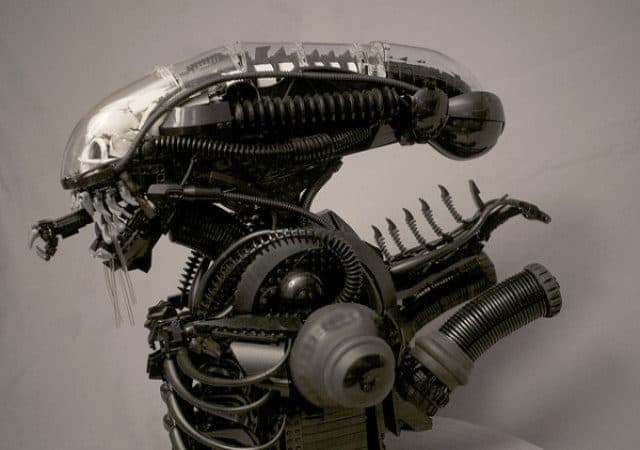 It is simply impressive what can be done with LEGOS. The vast majority of the Alien bust you see in these pictures were created using little more than Legos. Every last part you see is either Lego, with only a few supporting materials to hold the entire bust together and grant it enough stability that it won't simply fall over. As the creator has said it took roughly 3 years for this 'labor of love' to come together. Â His fascination with the Alien franchise began when he was a boy and expanded into this project only a short while ago, proving that he is indeed a very dedicated fan of the movies.
As you can see the jaw actually retracts in and out. He had to change the mechanism at least once as the first idea he had threatened to shake the entire bust apart. He's even created the end section of the creature's tail, staying faithful to the design by keeping it as flexible as possible. The skull within the clear dome is simply amazing to put it lightly, and apparently it was the first part of the design that he began when starting this intensive project.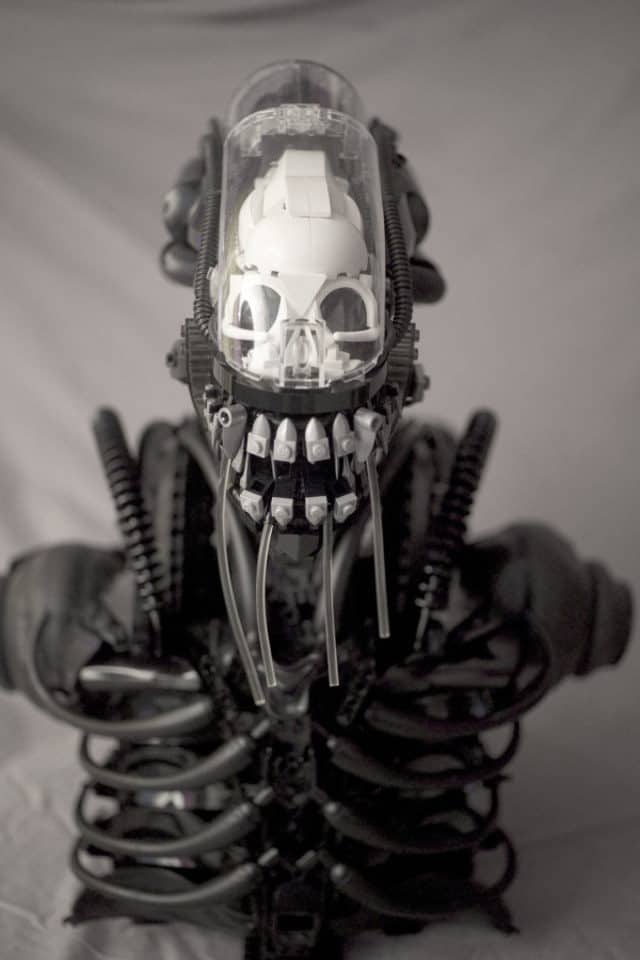 Fans of the Alien franchise, many of them in any case, have been enraptured with this movie since they were children or adolescents. The allure of this deadly, bio-manufactured killing machine is that in many ways it is pure, essentially untouched by any need but for that which it was designed. It was made to grow, kill, feed, and help its own race to continue. It has never been bogged down by political maneuverings, nor has it thought of anything other than the will to survive and to serve its colony and queen. It is brutal in its methods and unforgiving in its manner, but in that it is also pure. It is not pressured by the emotions and issue of a soul that humanity has struggled with for so many generations.
That is also a part of the allure. It is a perfect killing machine that does not think twice about the acts it commits. For the Alien, killing is a matter of fighting for food, for territory, and for the survival of its species. All other organisms are either prey or a threat to its existence and the only loyalty it knows is to the hive. Even in several cases it has been shown that the Xenomorphs will forego loyalty to one another if it is warranted for survival. They aren't hampered by a lack of intelligence nor a conscience. They will kill because it is their nature and it is what is deemed necessary.
The desire to build one of these things goes beyond just the idea that one can. There is something unique about the Xenomorphs that was captured so many years ago when the first one of them came on screen. They are so horrific that it is hard to see any type of inherent beauty in them. And yet for all that they are so perfect in their own way that one can't help but admire their simplicity and savage allure. Obviously this creator felt that passion since he recreated this bust so faithfully in the image of his favorite movie monster.
Save