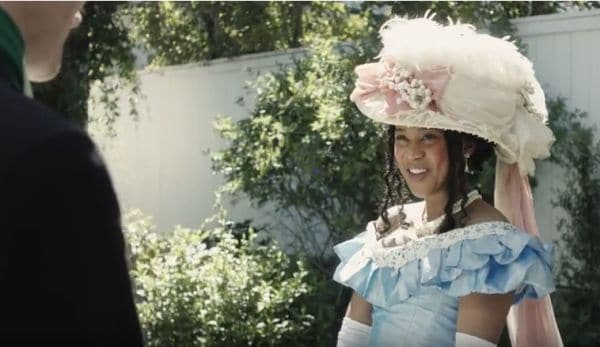 So here is why you should check out Black Girl in a Big Dress…..it's absolutely hilarious. First let's talk about the dress. It's from the Victorian era and like all dresses of back then, it's big, and because it's big it's easy enough to move around in, one would hope, but once a person has to get inside a confined space it becomes a bit of a problem. Maybe that's why you don't see carriages packed to the gills with people in movies, especially when women are wearing these kind of dresses. The dress itself takes up about a space and a half on a bench seat and has a tendency to fly up with just the slightest of movements.
Then there's the cosplay factor of it. Cosplay actually looks like a lot of fun and definitely has its own place and time, which is not always compatible with the real world since people still tend to rely on those items that didn't exist in the Victorian era. You know, cell phones, modern cars, that sort of thing. It's a good thing they didn't too, since the Victorian era might have swiftly given way to a more modern time and we might be living in space stations or on the moon at this point if humanity had sped up that much that quickly.
Kind of still within the cosplay factor is the style of speech that people used back then. The proper way of speaking has long since been deemed as unusual by many people since it has given way to expedience and slang that provide just as much information about a person and how their day is going and don't take an excessive amount of time with any contrived niceties that might be desired by both parties. Those that delve this deeply into cosplay are seriously committed to it but can also irritate those that are not. For instance, the last time I heard the word "trollop" was in a Forgotten Realms novel, and of course it was speaking ill of a woman that was suspected of being a bit too friendly around certain men. There are other words that are used for women with that kind of reputation in this day and age. None of them are that nice but as with anything else they're quick, to the point, and in many ways give off enough of a bad vibe that they can carry a lot more meaning. Trollop just sounds a little too playful to be an insult.
Still, give this woman credit for knowing what she wants to do and going with it. This series should be fun to watch simply because the challenge she'll face, getting in and out of the car in that dress mostly, will be a little rough since the real world of today doesn't really conform to the world that was considered polite and proper. But she's into it so give props to the costume and the fact that she's so dedicated to the part.