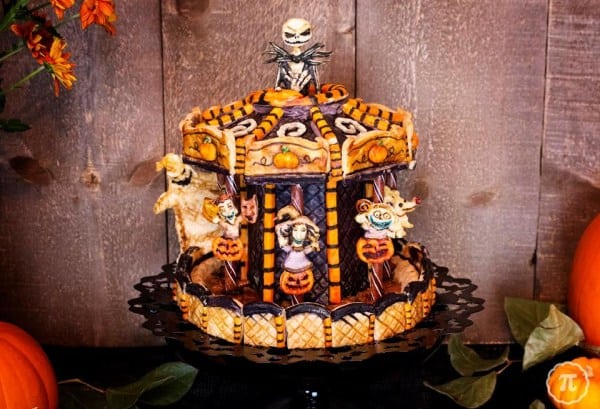 I have to say that this is a LOT of work. But looking at the attention to detail I'm just stunned since the characters from The Nightmare Before Christmas just come out perfect. The carousel is essentially two pies, one stacked on top of the other with the carousel in between. Obviously everything is edible as you can break off a piece and dip it into whichever pie you want. It would seem like a sin almost to do so however after all this hard work. Personally I think I'd let it sit and be admired for a while before finally deciding to chow down.
The characters are all so fleshed out that's hard to imagine that just anyone could do this. I don't doubt that they could it's simply that the people doing this video are obviously well-practiced and have been doing this kind of thing for a while so it's almost second nature to them. The effort of cutting out the shapes seems simple enough and the pieces don't seem too hard but getting them all to look right and resemble the finished product seems like something that a lot of people would grow frustrated with if they didn't get everything picture perfect. Plus it does take some skill to do this and actually make it come out just as it does in the video. But hey, trying is the only way that people will ever get it down.
This design isn't too difficult really if you follow the instructions, but the overall monotony of having to decorate each piece is what would get a lot of people. For something like this you definitely need to be a crafty person and like doing things that take a great deal of time and effort. At the end it's an impressive piece of work that will be torn down as people start to eat it, but at least you'll have learned how to make something really impressive.
Plus, if you can make this crafty little piece it could give you a lot of pointers on how to go about making other arts and crafts that might use the same skills and tools. Once you learn how to be a crafty person, whether it's using food or other materials, there's a whole new world that can open up to you. Crafts aren't always practical and a lot of times they're more for show than anything, but they do happen to teach patience, how to follow the guidelines, and of course how to make things work in a regimented order. The learning process is something that's good for most anyone and can be applied to many different facets of life.
In this case however the patience aspect and the attention to detail, that can also be important in life, are what a person will need to attempt this project from start to finish. It is a lot of work to be certain, but it's worth the time and effort when you see how fast people will devour this yummy treat.