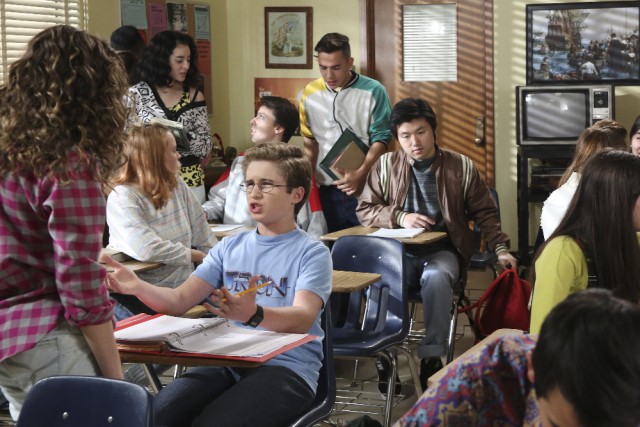 Tonight looks to be a fantastic episode of The Goldbergs as both stories will be full of fun and games. The episode, titled "Double Dare," is described by the network as follows:
Adam and Emmy are ecstatic their favorite TV game show, "Double Dare," is hosting auditions at their school. But when Adam secretly asks Pops to be his partner, and Emmy secretly asks Handsome Ben, the two get into a fight. Meanwhile, Murray and Barry are upset the Philadelphia Eagles have been losing until superstitious Barry becomes convinced Beverly is their good luck charm to change things around.
From the image above and the images below, it seems like the family is about to have a lot of fun on the field, and you can see that some of Barry's friends are along for the ride. I see Jeff in there, too, so I'm personally hopeful for a good moment between him and Erica (who is also included in the festivities). No matter what happens, I'm sure we're in for a number of laughs tonight.
Check out the rest of the images below, and be sure to tune in at 8:30/7:30c on ABC for a brand new episode of The Goldbergs.