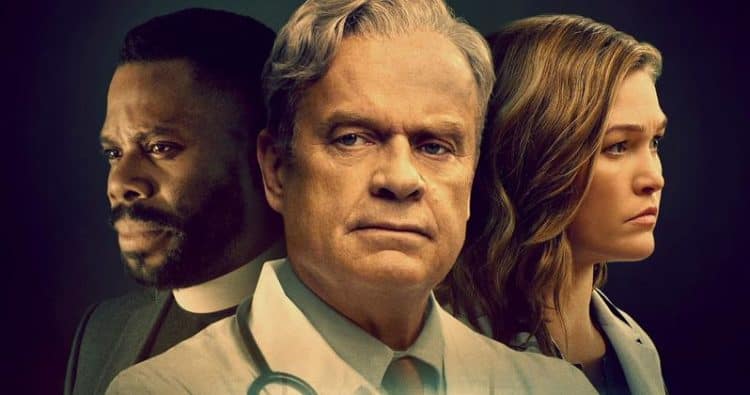 The subject matter for this movie alone would be able to create a discussion about morality that many people would become frustrated over in a matter of minutes. The God Committee is kind of what it sounds like, a group of individuals at the supposed top of the medical profession that gets to decide who receives a heart transplant and who doesn't. Given that this is likely one of the many regular decisions that people have to make these days it feels as though we're getting at least a small glimpse into the procedures that dictate who will live and who will die, and it's bound to be a bit horrifying to realize that in real life, this can and has happened in the past most likely. It's one of the many things that people don't want to think about and don't want to realize might be far more truthful than they admit. But art does tend to imitate life more often than we realize.
Looking at the trailer there's definitely a worthwhile cast that's been put together with Kelsey Grammer, Julia Stiles, Colman Domingo, Janeane Garofalo, and Dan Hedaya, all of who are actors that have been great in the past but appear to have kind of faded just a little over the years. The roles they're playing are bound to feel a little difficult thanks to the fact that the subject is something that a lot of people don't want to discuss that often and some are willing to discuss at length and in lurid detail. The decision over who to give a heart transplant to, and the limited time that one has to make a decision, feels like something that would torture many people since trying to decide who lives and who dies, and perhaps even who gets to keep suffering, is one that many individuals would have a serious issue with. Trying to determine the fate of our fellow human beings appears easy when it's said aloud or seen on paper through data and statistics. But the implications that it comes with are definitely heavy and not to be taken lightly.
Trying to look at such a thing reasonably sounds tough to the average person since very few people would want to have this kind of power over another and those that crave it and would fight to have it are usually those that shouldn't possess it in the first place. The fact is that we tend to trust doctors and those that run hospitals since they took an oath to care about the people that frequent their buildings, and while this oath is meant to be sacred and binding, there are plenty of people that look at hospitals and everything that happens within them as business transactions that will show up as numbers and random data and little else. To some, this would be utterly dehumanizing and such an argument wouldn't be wrong since the business side of medical care is very real and it's also quite important. But when it comes to trying to decide who lives and who dies from a business standpoint it also brings in the need to see people as people, not just dollar signs that are more valuable when they have more zeroes behind them.
The attempt to argue morality in a hospital setting feels like it should be an open and shut case for a lot of people, but the unfortunate reality is that it's not that simple. When business and caring for one's fellow humans become so hopelessly entwined that they can't be easily separated it tends to mean that a small amount of humanity has been lost for a financial gain or stabilization that is deemed far more important. It's not even a gripe about how the rich can easily pay for medical procedures that might save their life or enhance their looks, it's an argument over what's more important, money or humanity. When one pauses before even answering the unfortunate truth there is that it's not the easy answer we want and it's not bound to please a lot of people since the act of picking out who gets a transplant based on how much they have in their bank account is bound to cause all sorts of trouble.
Looking beyond the morality of it is difficult to impossible for some folks, but realizing that the business must go on if people are going to be helped is a counter-argument that a good number of people might not like, but is true all the same. The God Committee is bound to either highlight the problem with the modern-day hospital or be buried among the many other movies that will be headed out to the viewers, with the latter sadly being the most likely course, if only because this isn't a cut and dried issue.