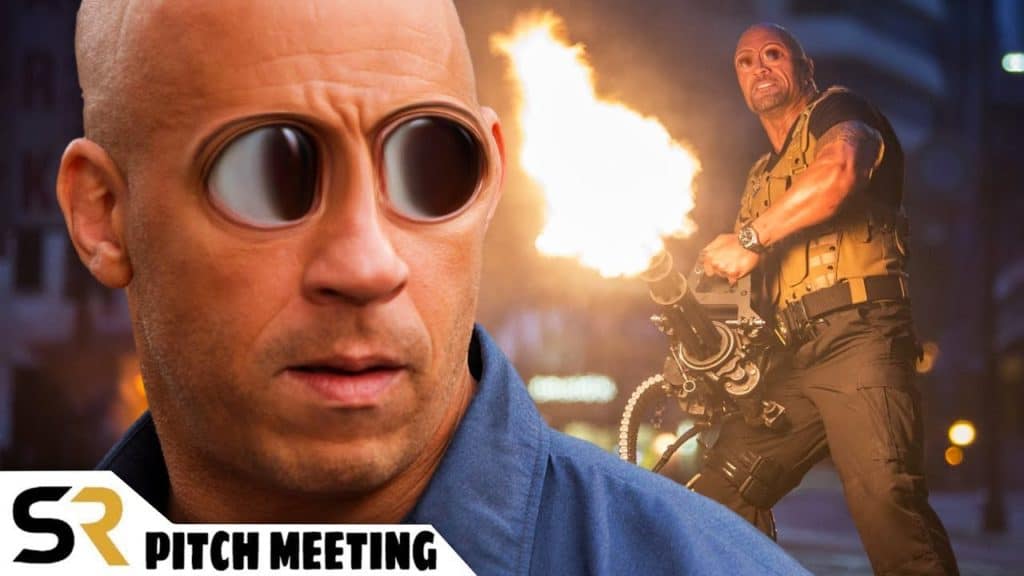 The distance that the Fast and Furious has traveled from its meager beginnings, being about hijacking trucks and living the life that one quarter-mile at a time, has given way to fighting hand to hand with international terrorists and performing stunts that even Jackie Chan would say 'hell no' to. This time around the team is up against the older brother of a terrorist they took out in the previous movie, Owen Shaw. The only thing is, Deckard Shaw isn't quite as refined as his brother and takes out an entire hospital just to see his brother and swear that he would get back at the people that put him in a coma. Yeah, the guy that everyone thought was dead in the last movie since he was kicked out of a speeding plane actually lived and was in a coma. But things only get better from there since not only does Shaw end up killing Han, which means this movie is happening at the same time as Fast and Furious: Tokyo Drift is, but Shaw managed to track down Han after fighting with Hobbs and Elena, who were flung out of a multi-story building and landed on top of a car, without killing themselves. So essentially, some of the guys in this movie are able to be classified as being tough as iron since in any other situation they'd be dead. 
It'd be nice to say that the ridiculousness stopped there, but we'd be short-changing the movie and on top of everything, it's important to remember that the movies are meant to be fun, so suspension of disbelief is kind of a must. After all, it's this that allows anyone to believe that dropping cars loaded with parachutes out of a plane would be a good idea, especially since there doesn't appear to be any way to guide the chutes as they're not exactly rigged for such a maneuver. Then there's the idea of Ramsey being tossed out of the back of a moving vehicle, which wouldn't necessarily result in the death-defying leap that would end in a gentle impact that would leave her in peril but still very much alive. 
From there it's off to Abu Dhabi, where we find out that Letty is some martial arts badass, which is kind of hard to imagine since if the head of security, played by Ronda Rousey, can be taken out by a street racer, then it's kind of obvious that her employers didn't exactly break the bank getting the most skilled security they could find. Oh yes, then there's the scene in which Dom and Bryan drive around the interior of a building in a car so expensive that breathing on it might incur the cost of an average house payment to get it cleaned. But the kicker is that they somehow build up enough speed to jump from one highrise to another before they finally bail and let the car plow through the last one. And believe it or not, after that they just waltz on out, completely disregarding the fact that their crew is in a separate building, no doubt with security guards swarming. Even working with Mr. Nobody has to have its limits when it comes to getting people out of tight situations. 
But then the crew makes their way back to the states where an injured Hobbs is still recuperating but flexes out of his cast when he realizes that he has work to do, which means going to help Dom and his crew, who are squaring off against an African warlord who appears capable of flying an attack helicopter over a major city without bringing serious heat down on himself from the US government. But not only that, the warlord decides to fire off a drone to take care of the crew as they try to outfox him and the God's Eye, the device they retrieved and then lost. While all this is going on, Dom is having a one on one battle with Deckard, which begins with a game of chicken that should end up putting both of them in the hospital. Iron men, remember? But as they go to it, things get even crazier. 
Just when it would appear that Letty and Ramsay are done for, Hobbs jumps an ambulance he borrowed off a bridge and onto the predator. Then, taking the minigun that was attached to the drone, begins to fire on the warlord and his attack helicopter, who are attempting to kill Dom after he's delivered yet another cheesy line and supposedly ended Deckard. Now if all that was the finale for the Fast and Furious series, that would have been great, but obviously it wasn't since we're now waiting for Fast 9 to come out. Huh boy, just wait and see what kind of pitch meeting that one's going to earn.