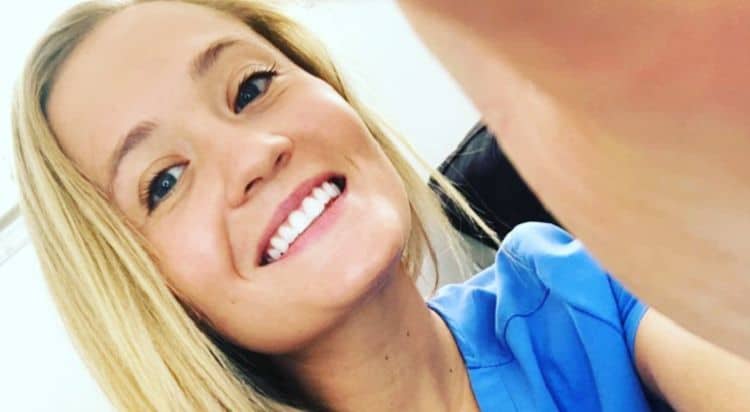 Chelsea Laden never planned on becoming a TV star, but life certainly has a funny way of working things out. As one of the stars of the Travel Channel series Destination Fear, Chelsea and the rest of the cast push themselves to the limit by spending the night in places that are known for being haunted. Although some of these places are scary enough to even make viewers cringe, Chelsea's competitive nature never allows her to backdown from a challenge. Now in its second season, fans are enjoying the adventure and Chelsea and the rest of the team are loving the process as well. Continue reading to learn 10 things you didn't know about Chelsea Laden.
1. She Is A Minnesota Native
Chelsea was born and raised in Minnesota and she is the second oldest in a family of five. Although she moved up to New England to attended college at Quinnipiac University, her love for her hometown has never left her heart. She currently lives in the Chicago area.
2. She Was A Hockey Player
Long before she was known to the world as a cast member on Destination Fear, Chelsea was known for something else entirely. After high school, she earned a full scholarship to play division 1 hockey at Quinnipiac University. In addition to playing hockey, Chelsea was also involved with other on campus groups and activities. After finishing her college career, she went on to play professional hockey with the National Women's Hockey League.
3. She Is Studying Optometry
To say that Chelsea is multi-talented wouldn't even be enough to describe how skilled she truly is. Although she is enjoying her time in the TV world, she also has some other plans for her future. She is currently studying optometry at the Illinois College of Optometry. When it's all said and done, Chelsea is going to have lots of very cool experiences to look back on .
4. She Is Very Active On Social Media
Social media has become a very powerful tool – especially for people who work in entertainment. Chelsea has put a lot of work into building a strong social media presence and that work has paid off. She currently has more than 35,000 followers on Instagram and more than 16,000 followers on Twitter.
5. She Is An Entrepreneur
Being a business owner is yet another thing that Chelsea can add to her already long list of accomplishments. She is the founder of a boutique called Twenty4K which sells jewelry pieces that incorporate gold. According to the business' website, "Twenty4K strives to effectively bring innovation, originality, quality and creativity to you through our products."
6. She Loves Being Outdoors
These days, Chelsea has been spending lots of time locked in haunted spaces, but when she isn't busy being scared out of her mind she loves spending as much time outdoors as possible. Chelsea enjoys things like going fishing, hiking, swimming, and exploring.
7. She Is A Brand Ambassador
Having a large social media following is about much more than popularity; it can also lead to real business opportunities. Thanks to her followers, Chelsea has gotten to work with brands to help them advertise their products. She is currently a brand ambassador for a company called Revive Super Foods. As her following continues to grow, she will likely have the chance to work with even more brands.
8. Destination Fear Isn't Her Only On Screen Experience
Destination Fear is what Chelsea is best-known for, but it isn't the first time she's been in front of a camera. In 2016, she appeared in the documentary Trail to Terror which was created by her brother and destination fear co-star, Dakota Laden. The project was filmed right before Chelsea began her professional hockey season.
9. Checking Out Haunted Places Isn't Anything New For Her
Exploring places that most people would rather avoid isn't anything new for Chelsea. During an interview with Rich Sports Talk, Chelsea shared that she, her brother, and and Tanner have always been interested in spooky spaces. When they were younger they used to explore abandoned/haunted buildings in their area. She admits, however, that spending the night in these places wasn't something they did until the show.
10. Her Brother Is Her Best Friend
There are plenty of siblings who can't stand to be around each other for any longer than necessary, but that isn't the case for Chelsea and Parker. The two consider each other friends and love spending time together. Even when they're not filming for Destination Fear you can usually find them hanging out and enjoying each other's company.