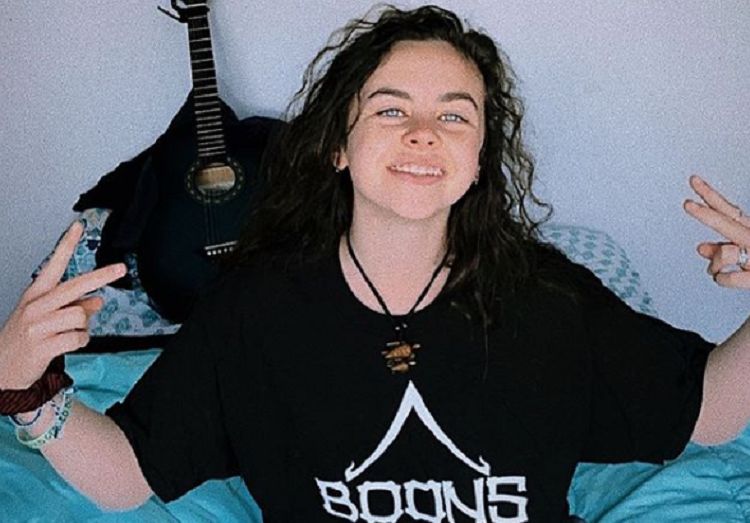 "Singing isn't just my dream, it's my reality," says Chevel Shepherd, the 17-year-old winner of The Voice Season 15. With a record contract with Universal, a forthcoming debut album produced by the legendary Todd Tidwell, an upcoming tour, and, to cap it all, a lead role in a film adaptation of Michael Martin Murphey's hit "Wildfire" in the works, it's a reality that just keeps getting better. With 2020 set to be the year Chevel makes good on her promise of becoming The Voice's next big superstar, it's time to learn more about the talented teen.
1, Child Prodigy
She might still be in her teens, but Chevel's been singing for years. She first stepped up to the mic when she was just 2 years old: over the following years, she took every opportunity that came her way to get back to it, performing on various radio shows and even recording her own mini CD by the time she turned ten. Her famous yodeling, meanwhile, came about after her mom showed her a video of someone doing the same: after deciding she wanted to master the technique herself, she started practicing daily, and soon had it down to a fine art.
2. The $100,000 prize money
Winning The Voice didn't just come with a pat on the back and a round of applause, it came with a giant $100,000 check. That kind of money would be a lot for anyone, but for a 16-year-old, it was mind-boggling. Although initially unsure how she'd go about spending her newfound wealth, she had a few thoughts, as she shared with People. "Maybe a car," she mused. "I would love to have a Chevelle because that's my name. Me and my dad are probably going to get one and build a '72 [Chevrolet] Chevelle together."
3. The First Album
Along with a shed load of cash, Chevel also won a recording contract with Universal Music Group as part of her grand title. Speaking to People about whether she'd be putting her legendary yodeling skills on display in her first album, she answered with a very definite yes, before expanding further on what kind of sound she planned to create. "I [want] to really bring back the older Loretta [Lynn], Dolly Parton country vibe," she said. "I feel like that would be really cool to start out with, and then I wouldn't mind doing some contemporary, modern country as well. But I just want to bring back the older country because not many people are doing that nowadays."
4. Her Inspiration
She may have a passion for old school country by the likes of Dolly Parton and Loretta Lynne, but growing up, it was contemporary country that really got Chevel's foot tapping. Of all the artists creating music right now, it's Carrie Underwood and Miranda Lambert that have served as her main inspirations.
5. Three Chair Turn
During her blind audition, Chevel choose to sing a rendition of If I Die Young by The Band Perry. The Voice judges were suitably awed, with 3 out of 4 turning their chairs. Despite the pleading pitches of Jennifer Hudson and Blake Shelton, Chevel joined the likes of Sarah Grace, Kymberli Joye, and Delaney Silvernell on Team Kelly. Chevel's eventual victory gave Clarkson her second win of the show so far, making her the first female coach in The Voice history to win more than one season.
6. Clarkson and Chevel Forever
When Chevel opted to join Team Kelly, she didn't just get a coach, she got a new member of the family. The pair instantly formed a tight bond, with Kelly taken on an almost sisterly role to the younger singer. "I loved working with Kelly, and I just loved how open she is and how easy it was to be myself around her. What you see on TV is what you get," she told SheKnows."She always told me to be yourself and to have tons of fun".
7. Meeting the First Lady
Of all the experiences she's had since winning The Voice, the one that's giving Chevel the biggest thrill was meeting the First Lady of Country (and one of her all-time icons), Loretta Lynn. The meeting came after Chevel received a personal invitation to attend the legend's 87th birthday, along with a backstage pass to meet the stars of the birthday concert. Although meeting industry luminaries such as Garth Brooks, Trisha Yearwood, Martina McBride, Margo Price, Keith Urban, Miranda Lambert, and Jack White was obviously memorable, it was meeting Lynne herself that bought Chevel to tears.
8. Learning New Skills
On Chevel's upcoming debut album, we hear a lot of her vocal skills but not so much of her other musical talents- something she's hoping to address on future releases. The young star recently bought a number of guitars and is busy teaching herself to play. By the time of her live performances later this year, she hopes to be upfront playing rhythm, not to mention singing songs she's penned herself rather than had someone else do for her.
9. Moving into Acting
In 2019, Chevel dipped her toes into the acting world for the first time when she spent several weeks in Tahlequah, Oklahoma, shooting an extended, cinematic adaptation of "Wildfire," Michael Martin Murphey's 1975 hit. Chevel plays the lead role of a young girl who finds solace in her friendship with a wild horse after the death of her father. The film will also star both Murphey himself and Anne Heche.
10. Making Plans
This year marks Chevel's 18th birthday and, as of May, the end of her school years. Although she's psyched about participating in her graduation ceremony, she's got no plan to continue her studies at University. She does, however, have enough up her sleeve to make sure 2020 is going to be a big one. "I've got a lot of exciting things coming up I can't really talk about yet, but this year's going to be a blast," she told Farmington Daily Times.