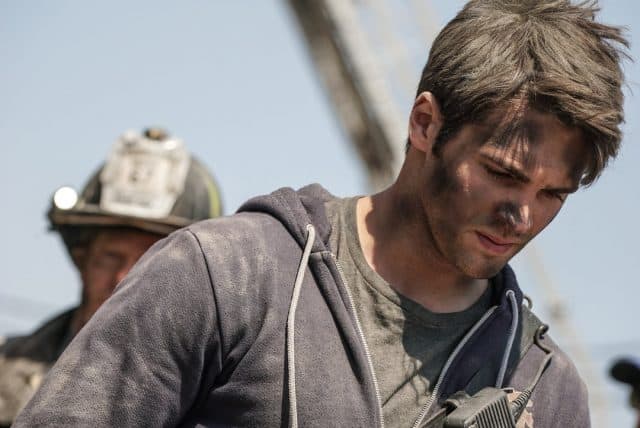 The penultimate episode of Chicago Fire's fourth season was a display of certain things falling apart even as there seemed to be much progress. If it wasn't true in the beginning of the hour, it certainly was by the end when a devastating call was responsible for the loss of a firefighter. Because this particular case was so personal, we're left to wonder for next week's finale if this week's actions will be portrayed as an accident, or the most devastating choice a leader has.
Despite having been told the chances for adopting Louie, Dawson moves ahead with becoming a foster parent. In her bones Dawson feels this is right, even though it's clear this is causing a rift between her and Casey. Antonio is supportive of his sister, but is incredulous that she is doing this without Casey. Boden is additionally worried about the road Dawson is going down. It's not that Dawson isn't going to be a great mother, it's just that she is charging full steam ahead without assessing how this will change things. Dawson is devastated when she learns that Louie gets placed with another foster family, but gets a second chance when they can't handle Louie's behavior problems. Dawson doesn't realize until later that Casey pulled strings so that Dawson could get a meeting with DCFS in the first place. There's no doubt he's supportive of her, but it's probably going to be at the expense of their relationship.
While Otis is on medical leave for the month the house hires a temporary replacement. Otis feels great coming in to visit his friends until he meets his rather indominable replacement. He decides that adding an "insurance policy" for his job couldn't hurt. Otis showers Connie with a night at the theater, only to learn she is keeping his job for him when he's ready.
Stella and Severide are going strong. She just can't seem to get rid of her ex Grant. He may seem like just an addict, but something tells me he may be dangerous.
Jimmy's brother Danny comes to him for help getting a favor from Casey. Jimmy decides against it since what is brother is doing is illegal. Danny is furious with him, and they don't have a chance to set things right before the next call. Both 51 and Danny's company are called to a building collapse. Danny doesn't make it out of the building before it caves in, afterwhich Jimmy runs in after his brother. Boden decides that it is too risky to send Squad in, so he goes in himself to pull Jimmy back. The look on Jimmy's face after Danny's death isn't just grief, it's anger.
Will Dawson and Casey's relationship survive? Will Jimmy's grief cause him to do something he can't take back?
Chicago Fire Season 4 Episode 22 Review: "Where the Collapse Started"
Summary
Chicago Fire loses one of its finest in the penultimate episode of season 4.