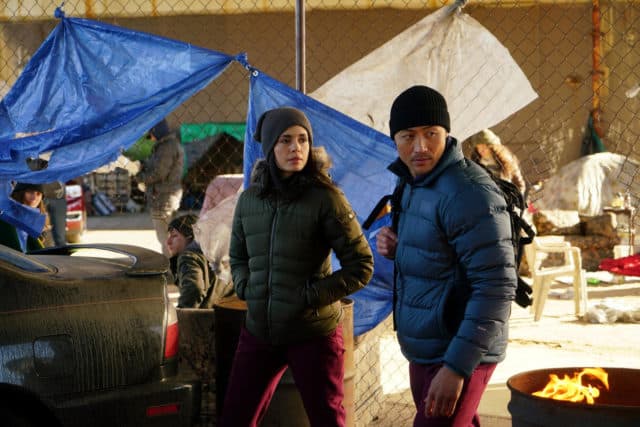 The most influential patients are the ones whose decisions blow the doctors away. They can advise all they want, and 9 times out of 10 patients will listen to the person with the MD behind their name. But occasionally, the doctors of Chicago Med have to figure out that the patient knows better than them about what is best. These kinds of decisions are rarely easy, but they teach more about the strength of the human spirit than can be found in any technical school book.
Rhodes and Bekker finally did the deed, and it's weird. These two were going to give in to temptation eventually, but their personalities clash on a good day. While treating a child with cystic fibrosis, they conflict on his treatment prior to a lung transplant. There is no good answer that doesn't put the patient at risk, but because the parents know Dr. Rhodes, they go with his treatment. Dr. Bekker could have said a lot of things, but all she told the parents was that no decision they made out of love was the wrong one. Luckily, the problem was not with the patient, but with the machine he was on. The case makes Rhodes appreciate Bekker more, but she thinks any further personal entanglement between them would be a bad idea.
Though he may have been resistant at first, Dr. Choi's first visit to the homeless camp was not his last. He's now familiar with the inhabitant, and knows that for whatever reason they don't want to go to the hospital, it is ultimately a matter of keeping themselves safe. When the system fails you, it's not crazy to not trust it. So when a pregnant homeless girl insists on having her baby in the cold, Choi does his best to try to accommodate her, over Dr. Manning's objections. She's new to this, and she's an optimist. She doesn't know what these girls have experienced in the foster care system. She still has a lot to learn, even on the strength of a mother's love. Dr. Manning would do anything for her own son, but she has a new appreciation for this girl when she decides to give her baby up. This girl has the capabilities, the strength, and even the support, to live on the street. The baby does not, and she would rather give her baby up for adoption than risk it going into the same system that failed her. No ordinary teenager could have done that.
The hospital's budget cuts just keep creating more and more problems. Maggie thought that providing incentive for the ambulances to bring insured patients in would be a good thing. Instead, it told some paramedics that they could ignore uninsured patient. Maggie is sick over it, but the hospital doesn't mind so much. They'd rather pay a cheap settlement than risk losing the insured patients the ambulances are bringing in.
Dr. Halstead treats a pedophile who wants to die instead of fighting his cancer. While there are a lot of people who would happily follow his wishes, Halstead isn't one of them. But Reese isn't so sure that calling the patient incompetent of making his own decisions is the right call. Just because he wants to die, doesn't mean he is irrational. Quite the contrary. He believes he is fighting to give his life meaning, as well as put him out of his misery. Some people don't have that in them.
Dr. Charles may be bound by doctor-patient confidentiality with Reese's father, but that doesn't mean he can't still find some way to warn her that the man is a user. To that end, he follows a hunch, even if it is a little out there. He runs a brain scan on Reese's dad, and sure enough, the guy has the medical markers of a psychopath. Dr. Charles tries to get him to tell Reese the truth about his condition. Instead he tells her about the heart failure, thereby making her think he is a selfless, dying man. The guy is a psychopath alright. Now it's up to Dr. Charles to get Reese away from her dad before she gets in too deep.
Doing what is right is rarely easy, but which case was the best example of making the most difficult decision for the right reason?
Chicago Med Season 3 Episode 12 Review: "Born This Way"
Summary
On this week's Chicago Med, the doctors learned more from their patient's choices than their own.