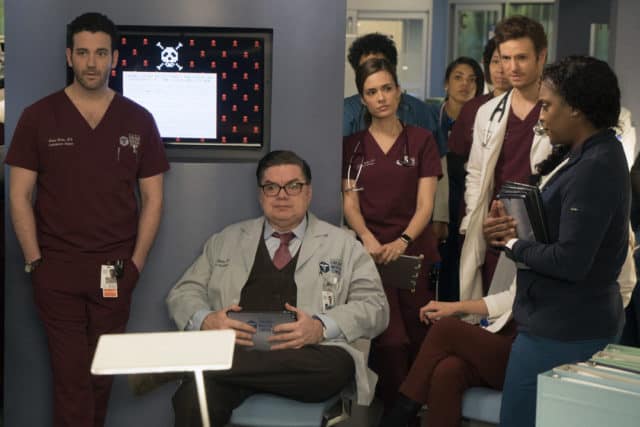 When we say we're dependent on technology for everything, we're not kidding. It's not just huge military guidance systems and kids playing Angry Birds on their parent's cell phones who need it. State of the art hospitals cannot function without technology. If it were just a matter of computers filing systems, it would be one thing, but important machines needed for diagnosis and surgery need that connection. When Chicago Med is cyberattacked, it's back to old school methods.
Despite the chaos, it's kind of nice. It reminds me of E.R. in the 90's with their wipeboards. Thank goodness x-rays are not online and they make apps for everything these days. Dr. Choi is really the only one comfortable with this situation because of his time in the Middle East. Treating a gunshot wound without fancy machines is right up his alley. Plus it's a good teaching experience for Noah. By the time the machines are back up and running, Choi's diagnosis is proven right.
It's nice that Ms. Goodwin has this hospital crisis to distract her from her ex-husband hanging around in the waiting room with his new, younger girlfriend. Bert thinks that he is getting a fun, vibrant young woman to lead him on adventures. What he doesn't know is that his new lady friend is taking him on adventures because she has PSP, a form of Parkinson's. I'd like to say she's wrong for not telling Bert even though she lets his ex in on the secret, but given this man's already walked out on one woman, maybe she's right to want to hold onto some happiness while she can. The rampage Sharon Goodwin goes on to find the person who paid the hacker's ransom doesn't seem so significant after all. It's probably better that she doesn't know anyways. I'm not sure how well Dr. Latham would do under disciplinary review.
The technological problems in the hospital exacerbate Robin Charles's already frayed nerves. Not that everyone isn't on edge. Robin and Dr. Manning are able to effectively find a rare case of Valley Fever in spite of the troubles. However, her reaction to the day crosses the line from aggravated into combative. Dr. Rhodes is troubled by this, but not nearly as much as when his girlfriend claims to be hearing rats in the walls later that night.
Might the Head of Psychiatry's own daughter be needing psychiatric help? Was it right for Dr. Latham to pay the hacker's ransom?
Chicago Med Season 2 Episode 19 Review: "CTRL ALT"
Summary
Chicago Med struggles to work without technology for a day when their system is hacked.