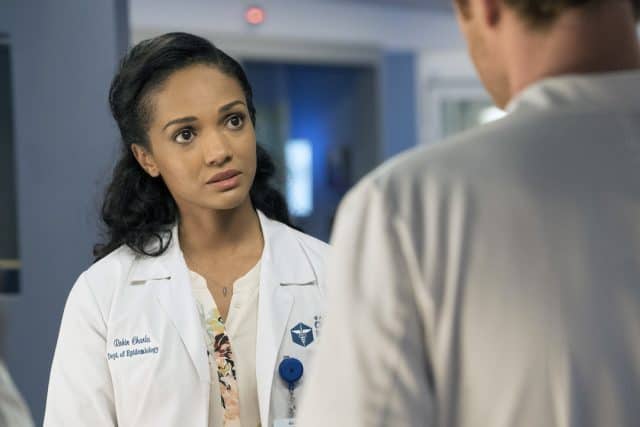 Family matters good and bad plague Chicago Med. The staff welcomes a new doctor who just happens to already have a connection to a staff member, but it's not a connection she is necessarily proud of. The family you choose, the family you don't, and the family you inherit can all be pretty complicated. In the hospital the best family is the one which gets you through.
Dr. Choi treats an elderly patient named Edward Hall, who has trouble getting treatment because of fighting between his girlfriend and his son. Hall has a tumor which could be taken out surgically, which is what his girlfriend wants. However, his son doesn't see the point since it could just prolong his father's demented suffering. When Hall goes into crisis, Choi claims the patient asked for help so that the patient's consent overrides the son's. Surgery works, giving Hall back some of his cognizance. He's aware his too young girlfriend uses him for his money and he doesn't have much time left. If he's going to live his life, he's going to live it his way.
Maggie knows just how important family is. She takes Jeff to visit "The Farm", which is the name for the place they send their comatose patients. It's good for the patients there to get visitors even if they aren't aware of it. Maggie has connected with one patient in particular who went into a coma around the same time her mother died. Jeff tries to help by finding the family, but they only give the order for her to be taken off of life support. Thus Maggie has to grieve all over again.
Reese is tasked with getting to the bottom of a patient's fear of being in the hospital. The clinical reason is that he's a heroin addict. There's a far more disturbing reason that this whole thing started though. The minute his mother arrives, Reese's patient becomes very disconnected from everyone else, enclosed in a shell of fear. His mother's possessiveness is a little too uncomfortable. When the hospital no longer has cause to hold him, he signals to Reese that he wants a reason to stay put. This gives Reese the opportunity to find, to her horror, a tracking device embedded in the kid's skin. Coupled with his other symptoms and circumstances, it looks like they've stumbled upon a case of sex trafficking. The problem is that legally their patient is an adult, so unless he outright says he wants their help, it could be psychologically dangerous to try to pull him out. Not that his pimp gives him the chance.
Dr. Manning is a little confused when her cancer patient has a cancer-resistant bug. That confusion turns into fear when Dr. Halstead patient comes down with the same disease. With an infection this aggressive, they need a top-notch epidemiologist. Meet Dr. Charles, Dr. Robin Charles, that is. She's no nonsense and doesn't believe in coincidence. She believes in clear patterns of reaction. Through her persistence, she is able to figure out that Manning and Halstead's patients were infected by endoscopes in the hospital. The FDA has been quietly trying to cover up that a batch of bad endoscopes have been sent out, because they "don't want to cause a panic". This infuriates Halstead and Manning, and Robin can see the connection the two of them share. It doesn't matter that they're both seeing other people.
Robin Charles is much more reserved than her dad. She followed in her father's footsteps to be a doctor, but that's about as much love as she has for the man at the moment. Dr. Charles senior wasn't always present when his daughter was growing up, and then he and his wife divorced, which effectively pushed Robin away. Just because she lives in Chicago now, and works in the same hospital as her dad, doesn't mean there's going to be easy bonding between them.
Hey, who else didn't know that the doctors and nurses got together to play music on the roof? Dr. Latham knows his way around a piano! Hopefully seeing Latham in this light will give Rhodes perspective on his new boss.
What did you think of the new Dr. Charles in town?
Chicago Med Season 2 Episode 4 Review: "My Brother's Keeper"
Summary
Chicago Med welcomes Dr. Charles daughter just in time to solve a very specific medical dilemma.