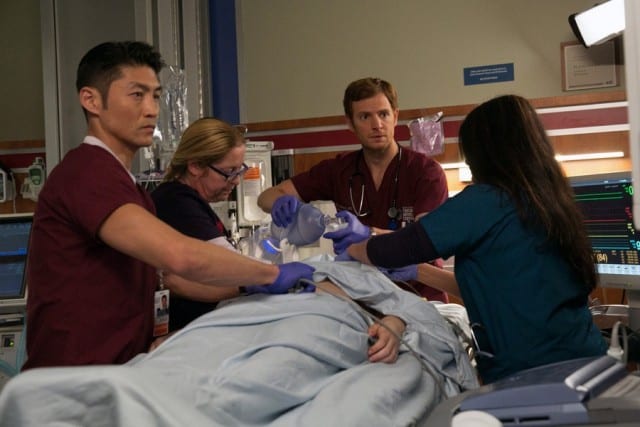 The Chicago franchise adds another phenomenal show to its world this week with the premiere of Chicago Med. Dick Wolf's Chicago universe has been successful in its portrayal of the firefighters, paramedics, and police officers who protect and serve their city. This week, the third entry premieres to include the doctors who heal their Chicago Fire and Chicago P.D. counterparts.
Many of the Chicago Med characters were introduced in last year's backdoor introduction episode of Chicago Fire. Several characters, like Will Halstead and April Sexton have been steady recurring characters on their sister shows, so we have a pretty good knowledge about them.  The premiere of Chicago Med introduces a new team of the city's heroes. Among them, Dr. Connor Rhodes, whose first day at the newly reopened ER (which as you'll recall was destroyed in an explosion last year) is delayed by a train derailment. This is how he makes his entrance to the ER as the new trauma fellow. Dr. Rhodes makes an excellent first impression with his new co-workers, all except Will Halstead. Pretty sure that's just a flexing of the muscles bravado which will hopefully go away quickly.
Others we are introduced to are Dr. Sarah Reese, a fourth year medical student still shaky on her feet, ER nurse Maggie, Dr. Ethan Choi, as well as pregnant and widowed pediatrician Dr. Natalie Manning. Dr. Choi is steady on his feet and so will probably be one of the people to help Dr. Reese come into her own. Dr. Manning lost her husband in Afghanistan, so will now be raising her child as a single mother. Maggie is just the kind of person you want around no matter whether you're a patient or a friend.
One of the striking features of Chicago Med that was promised by the showrunners is that the show will touch on complex medical dilemmas doctors face on a day to day basis. Much the way ER did in its day, Chicago Med aims to tackle what it means to work in medicine in times of crisis, as well as long-term cases. A perfect example is the case of a surrogate with serious head trauma. Her condition worsens to the point that she needs brain surgery, but the baby's parents have a hard time giving consent knowing it would endanger their child's life. Dr. Halstead is outraged at the situation, even more so when the hospital lawyer can't help them. Dr. Goodwin steps in to make sure the parents make the right decision. Because their surrogate entrusted them with her life, they need to be there for her too and give her life equal consideration.
Something that does set Chicago Med apart is that no other medical procedural has ever had a psychiatrist at the forefront. Dr. Charles has a very central role in the hospital. Today he is advocating for Jamie, a long-term cystic fibrosis patient at the top of the list for a lung transplant. Dr. Charles has to convince Jamie to go on a ventilator to relieve the pressure in his lungs, all the while knowing it is only a temporary fix for a problem that may never be resolved. Except they get a miracle, or what constitutes as one when you're talking about organ donation. Dr. Rhodes' brain-dead patient is a perfect match for Jamie. Dr. Charles is able to convince the man's fiancée to give consent for the transplant, and he and Dr. Rhodes end a long day by Jamie's side.
There is a good balance of crisis without being overly dramatic which makes this show feel authentic. The stories are intricate, grounded in both hope and realistic expectations, both of which are important aspects of working in medicine. This is the show that's been missing from my screen.
Will you continue to tune in for the next chapter of the Chicago franchise?
[Photo credit:Â Elizabeth Sisson/NBC]