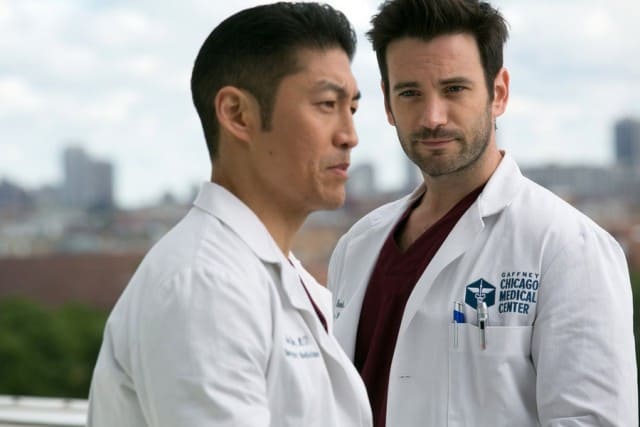 The second episode of Chicago Med sets the rhythm for the series as we get to know the doctors who work in the ER.
A young girl comes into the ER after having delivered a baby in an alley. Dr. Rhodes finds the baby barely alive, abandoned in a backpack in that same alley. The girl, Erica, is only 14-years old. She is on her own and spent her whole pregnancy in denial. Dr. Choi argues that Erica left her baby to die and should be held accountable for that, while Dr. Manning argues that Erica is just a kid herself. Dr. Choi offers to be the one to remove Erica's placenta, but when his mistake with the procedure almost leads to Erica needing a hysterectomy, Dr. Rhodes accuses him of having a bias against the patient. Dr. Choi's Navy background has taught him to hide his true emotions well, but even he has trouble with this one.
In the meantime Sharon tries to advocate with the social worker for this girl, but she finds out it will be a hard fight given this girl's history of arrests and troubling behavior. When Erica's sister arrives Dr. Manning has hope that she will take care of Erica and the baby. It is too much to hope for. Dr. Choi makes the decision to help Erica, advising her to tell the police that she was trying to get to the hospital when she delivered her baby; whether out of remorse or genuine change of heart is up in the air. After hearing this Erica doesn't stick around, leaving Dr. Choi to wonder if it was his fault that she left. Such an unsuccessful day doesn't do much in the way of Dr. Manning's mood. She certainly doesn't feel up to the baby shower her mother-in-law is throwing her. Nevertheless it's exactly what she needs to lift her spirits.
Elsewhere medical student Reese asks Dr. Charles for help with a patient. I'm not having a lot of confidence in Reese's skill level since she didn't notice the very obvious signs that her patient had dementia. When her husband arrives she is about to be discharged when Dr. Charles realizes that the whole reason the woman fell is because she is not walking normally, and it has nothing to do with her age. Dr. Charles thinks that the dementia is actually a symptom of Hydrocephalus. All they need to do is drain the fluid and their patient is back to herself, dancing with her husband.
Dr. Halstead treats a patient who thinks he is having a heart attack. He is not, but his wife's nagging would surely be enough to do the trick. The patient comes back in after all of his test come back clear, forcing Dr. Halstead to use a quick trick with nitrous oxide on the patient to keep him alive. Unfortunately he takes the last tank from Dr. Manning who was going to use it on the baby she was caring for. This forces Dr. Manning to use ECMO on the baby instead and drives a wedge between the two friends. After all of that, the cardiologist tells Halstead that it might have been kinder just to let him go considering the man will probably need long-term care for the rest of his life. Because he still doesn't know where he went wrong, he cancels a date he had so that he can spend hours figuring out what he missed.
If you think you know Dr. Rhodes, you don't. So far it is known that he grew up in a very nice area and only recently returned home to Chicago after practicing medicine in the far regions of the Earth. His father comes by the hospital to offer his son a chance to come back to the family fold, in the most condescending back-handed way possible. Rhodes isn't buying his father's form of sincerity. More of that relationship will be explored next week.
[Photo credit: Elizabeth Sisson/NBC]