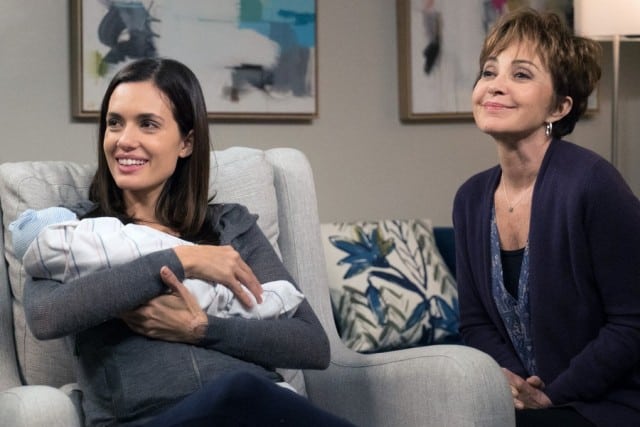 If this week's episode of Chicago Med had a theme, it would be facing a harsh truth. Amid the bright spot that was Natalie Manning giving birth to her son, her friends and colleagues had to face some difficult realities.
The ER team works to save two plane stowaways after they are ejected from the plane while it is in the air. They have a hard time stabilizing the man and woman before ICE agents start circling like vultures. After hearing what the siblings went through to be safe, Connor wants to do everything he can to help. Connor doesn't even get the chance to tell the girl that her brother has died before he has to perform surgery on her in the ER. Connor is later, once again, too late, and he is horrified to realize that the hospital handed his patient over to be deported. This horrible day is just the appetizer to what's to come.
Connor's father has donated a giant check to the hospital for a new psychiatric ward. Halstead thinks this is why Connor doesn't feel the need to explain himself for anything, until Maggie explains why Connor is having a particularly bad day. Connor's mother committed suicide after years of struggling with depression. Connor's father is only using his late wife's memory as an excuse to boost his ego. That would seem like enough for Connor to be angry with, until he issues a veiled threat to his father about maybe telling his sister the truth about the late Mrs. Rhodes's death.
Natalie and Reese work on an 8-year old who ends up having a terminal genetic condition. Natalie goes into labor, forcing Reese to tell the parents about their son. This, of course, completely panics Reese. She goes to Dr. Charles for help with how to break the news to her patient's parents. Dr. Charles tells Reese she needs to be honest, compassionate and direct with the parents about the reality they are facing. The weight of the whole situation tests Reese's resolve, and we see her pull her strength together to handle what comes next. With Dr. Charles' help, the little boy is told he is sick and will not get better. This was Reese's first real test of being a doctor-how to handle not being able to do anything.
Maggie and Will are right by Natalie's side during her labor, but Natalie's mother-in-law Helen has a huge problem with Will's presence. It's not as if Helen isn't out of line, but this may be the first time Will really allows himself to realize the depth of his feelings for his friend. Helen sends Will away saying his presence would confuse her widowed daughter-in-law, but her questions in the delivery room don't help either. Natalie's baby is turned the wrong way, and since she doesn't want a C-section, she asks Maggie to try to turn the baby around in utero. It's a little touch and go there for awhile, but Natalie does give birth to a healthy son whom she names Owen.
How do you think Natalie will handle being a doctor and a single mother?
[Photo credit: Elizabeth Sisson/NBC]
Chicago Med Season 1 Episode 6 Review: "Bound"
Summary
The Chicago Med team of doctors get a new member this week.