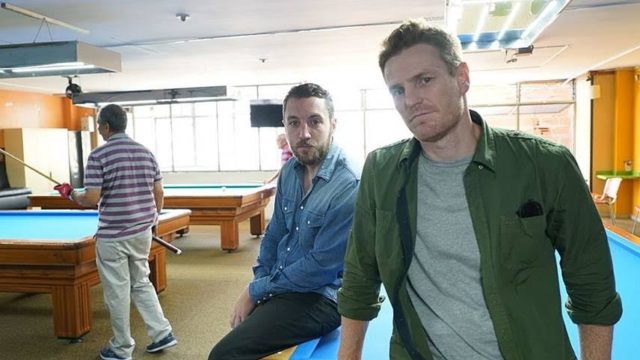 We've been tracking Discovery's heart pounding new series "Finding Escobar's Millions" from the premiere. We got an exclusive look at this Friday's big season finale and I can tell you it doesn't disappoint. If you haven't seen the series, it's not too late to binge the previous 5 episodes on Discovery GO, the network's digital platform. Trust me, once you start it will be hard to turn back. But we're not the only ones addicted — the show's ratings have been impressive and growing week to week.
For those of you who haven't seen it yet, here's a quick recap: Doug Laux and Ben Smith are former CIA operations officers who served multiple tours throughout the Middle East. Given their advanced training, they set out to find drug lord Pablo Escobar's alleged buried masses of his estimated multi-billion-dollar fortune all over Colombia. Legends say the vast majority of it has never been found. With never-before-granted access and permission in Colombia, Ben and Doug dive deep into the country and meet up with some of the most infamous and dangerous members of Escobar's inner circle.
This Friday marks the big season finale. Time is almost up for former CIA operations officers Doug Laux and Ben Smith. This week's episode will make you wonder, did the guys find more than they bargained for?
The episode begins with Doug and Ben assessing what they've accomplished and what their next moves should be. They have exhausted their leads directly linked to Escobar. Popeye, a former hitman, has recently told Doug that, Gacha, Escobar's partner, also buried fortunes, but they haven't investigated him yet. They decide to try to get more information about Gacha from Joe Toft, the former DEA Special Agent in Charge in Colombia.
Doug and Ben gain eventually get enough intel to access to Gacha's most extravagant property outside Pacho known as Hacienda Cuernavaca. And let's just say, that's when things get real.  And the guys start digging up all kinds of interesting items. I promise, no spoilers here. You'll just have to watch and see.
From there, the guys head to another property where they find something truly unsettling. But just when you think the end has come, Doug and Ben obtain access to one last property. It is secluded and so secret they aren't able to actually reveal its location.
At this point, it's late at night and pitch black, but the team is undeterred. Could this be the massive hit? You'll need to tune in tonight at 10 PM ET/PT on Discovery to find out.