According to an article on Deadline.com, ABC is once again contemplating trimming it's slate of scripted daytime programming. All My Children seems to be the ratings choice to for cancellation, in spite of the history and the ever recognizable Susan Lucci.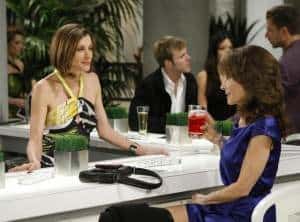 I don't know if you've noticed how All My Children has been raising the bar lately in their attempts to bring attention to their struggling little show. Since the show started airing, Hot in Cleveland has been helping in that regard with the fictional rivalry between character Victoria Chase and Susan Lucci. Susan has made more than one appearance on the show, and in a duo recent episodes (I love Lucci Parts 1 & 2) she was joined by Michael E. Knight and Darnell Williams in pivotal roles to story on the show. In another very cool turn of events, "Victoria Chase" had a guest starring role on AMC as Erica Kane's assistant. The photo notes her actual role on screen.
On a recent episode of Castle "One Life to Lose", AMC stars Rebecca Budig and Cameron Mathison guest-starred as … dun dun dun dunnnnnn… soap opera stars! They were both considered suspects and had some meat behind their roles. The point? AMC is obviously aware that they need to do something to get fans to take notice. But, is it too little too late?
When Guiding Light went off the air last year, I lost a part of my family. Lucky for me, I started watching All My Children in its place. If ABC plans to tear it asunder, the message is clear. I am not meant to watch soap operas any longer. I'm afraid if I try to pick up One Life to Live, Days of Our Lives, or General Hospital (all which I've watched in the past), I'll end up in the same position again within the year. It's just not worth the effort.
As someone who likes the comfort of a daytime serial, I know my next sick day won't be spent watching network television, but rather Lifetime or TVLand. Something fluffy and familiar, instead of more cheap game shows and talk show clones. How do you feel about losing another staple of daytime television, and which ABC show do you think should be the one to go?