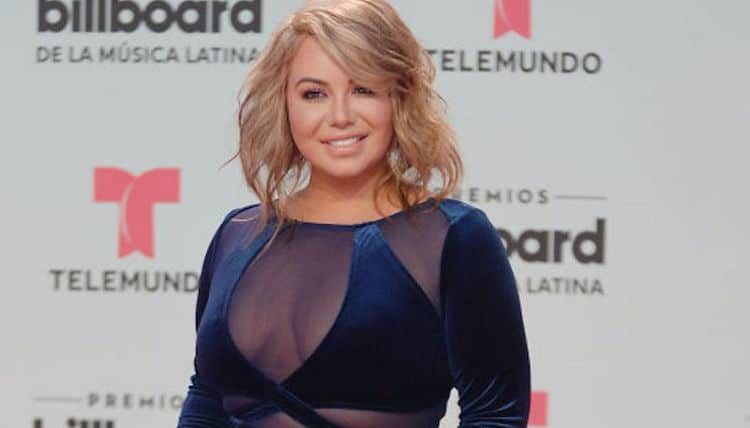 It's been eight years since the shocking, tragic, and untimely death of singer Jenni Rivera, and her family still misses her each and every day. The late singer died tragically when her jet crashed in Mexico when she and her passengers were on their way to make an appearance that's known as the Mexico version of "The Voice," on December 9, 2012. The news shocked the world, and her daughters took the news hardest. Daughter Chiquis Rivera spoke out on the eighth anniversary of her mother's death, and she said in a Twitter post, "I miss you. I need you," and tagged her late mother's account. Chiquis has also been in the press lately because there are some people speculating that her personal life is getting quite interesting, and people are very curious to learn more about her.
1. She's the Oldest Sister
She is one of many girls her mother gave birth to, and they are very tight. Their family is close, and we love that. However, she gets the honor of being the eldest sister, which we imagine means she's had to be the one breaking up more than a few arguments, protecting her sisters, and covering for them when their choices were less than stellar on more than one occasion. It happens. She is 35 as of 2020.
2. She and Her Husband Separated
She's a married woman, but there's been some trouble in paradise for the singer. She's married to Lorenzo Mendez, but they announced that they were separated only a year after their wedding. There's been a lot of speculation that they'd divorce, but then it seemed that they were back together. There were also a few rumors she was dating someone else.
3. Her Real Name is Not Chiquis
Chiquis is such a cool name, but it's not her birth name. The name her parents gave her at birth is actually Janney Marin Rivera. We are certain there is a reason she goes by Chiquis, but we are not clear on what that reason actually is.
4. Married Life Was Hard on Her
While neither she nor her husband spoke of the reason behind their separation for some time, her husband did come out and tell the press a while back that their troubles began four months after tying the knot. They were arguing all the time. They didn't get along, and married life was difficult.
5. Her Husband Accused Her of Feeling He Didn't Fit
When Lorenzo came out and told the press that they were getting a divorce, he said, "I think insecurities, being disrespectful, lies, there were differences. My life was not fitting into her plans. My personal plans, my dreams, my goals, were not part of her life plan," and that's a huge statement to make. It's not very flattering for her, either.
6. Rumor Has it She's Pregnant
We aren't sure what sparked the rumor other than the fact that she retweeted Cardi B saying something about her own pregnancy and a few other very small things like that, but the press assumes that her recent drive to El Paso where her estranged husband is working means she was headed to tell him she's pregnant. In fact, the rumor is very specific, saying she's 16 weeks along. That's a lot of detail for a rumor.
7. She's a California Girl
She was born and raised in California, and it's always been home for her. She is the first child of her parents, who had two more kids after her, and she has two more siblings born to her mother's second marriage.
8. She's Religious
Rivera was born and raised in a Presbyterian Church (same, girl, same) and she regularly attends services with her family. I remember growing up as a child attending my grandmother's church. It was next door to a Coast Guard station and across the street from the water, and it was the most beautiful stone church. She plays in the bell choir, and I always wanted to skip children's church and sit with my parents and grandparents in the sanctuary so that I could hear her play. I love that Chiquis Rivera shares the same religion and love of church.
9. She Dealt With Very Hard Things Growing Up
No one should ever be the victim of any type of abuse, but no child should ever be the victim of sexual abuse especially. Sadly, this woman was sexually abused at the hands of her biological father as a child. It wasn't until her own aunt came forward and told the late Jenni Rivera that Jose Trinidad Marin sexually abused her and she believed he was doing the same to Jenni's oldest daughter that anyone found out about it. He's currently in prison for his crimes. She was only 12 when her aunt came forward and her father was found out. Our hearts ache.
10. Her Relationship With Her Mother Was Strained
Her own mother thought her eldest daughter was having an affair with her second husband, though she denies claims that she was ever doing anything of the sort. The two stopped speaking only two months before her mother's untimely death. It was such a horrible time for the entire family.