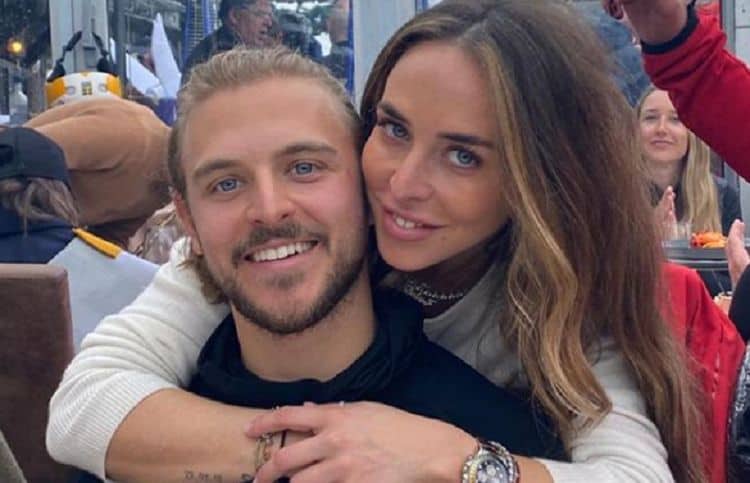 British retail heiress Chloe Green has been making all kinds of news in recent years, not least due to her turbulent (and very public) love life. With a dating history that's taken in the ex-husband of one of the world's hottest superstars, along with her current relationship with the nation's handsomest felon, Chloe is no stranger to media gossip. That said, we doubt she care's very much… as the daughter of one of Britain's richest men, the mom- of- one is sitting pretty on a fortune big enough to smooth away most of life's stresses. Find out more about the socialite with these 10 little known facts.
1. Her dad's a billionaire
Chloe is the daughter of British billionaire and businessman, Sir Philip Green. Green made his money in the retail business; as the owner of a string of British high street stores (including the hugely popular Topshop and Topman), as well as the chairman of retail giant, the Arcadia Group, the controversial entrepreneur has amassed a net worth estimated by CNW to be in the region of $2.7 billion. Unfortunately for Green, he's not had much time to enjoy the spoils of his riches of late- in 2016, his questionable business decisions led to him coming within a hair's breadth of having his cherished knighthood revoked. In 2018, he faced further troubles when allegations of sexual harassment, bullying and racism surfaced.
2. She's not adverse to a smooth criminal
In 2014, Jeremy Meeks went viral after his mugshot was published on Facebook by a California police department. The world went wild for the "hot felon" … 3 years later, so did Chloe Green. The two are believed to have met at the 2017 Cannes Film Festival, with the first photographs of the loved- up pair appearing later that summer. Fans of Meek may have been disappointed over the heart-throb's new love interest, but they're unlikely to have been quite so devastated as his wife, Melissa, who was left in state of shock after seeing snaps of her then husband cozying up to the British beauty.
3. She's a mom
In June 2017, Chloe welcomed a new addition to her life in the form of a baby boy named Jayden. Chloe took to Instagram to make the announcement, telling followers "We are pleased to announce the birth of our beautiful baby boy Jayden Meeks-Green. Born May 29th 2018. Mommy and Baby both doing well. We kindly ask to respect our privacy Please. Much love Chloe & Jeremy." While Jayden is Chloe's first child, it's 2nd time around for dad Meeks, who has already fathered a child with ex-wife Melissa.
4. She was a young starter
If you grow up the child of one of Britain's foremost entrepreneurs, you can expect to get schooled in the ways of business from a young age… well, you can if you're Chloe Green, in any case. When she wasn't studying at the prestigious International School of Monaco, Chloe was learning the art of the perfect PowerPoint presentation in her dad's boardroom meetings. Chloe started turning up at the meetings at the tender age of 10. What she contributed to proceedings, and who asked her there in the first place, might be a question for another day…
5. She created her own line of footwear
In 2012, Chloe decided to follow in her famous father's footsteps by venturing into retail. Her first project was the launch of a footwear and accessory line, CJG, that sold through one of her dad's primary concerns, the super-successful Topshop. The collection, which was said to have taken inspiration from such legendary shoe makers as Louboutin, was sold exclusively online and at select high street stores.
6. She appeared on Reality TV
Fans of British TV may remember Chloe from her brief appearance on Made in Chelsea. Chloe's brief flirtation with reality TV saw her appear on the show as the girlfriend of bi-sexual cast member, Ollie Locke. Chloe's fling with the reality genre turned out to be almost as brief as her relationship with Locke: despite being at the center of a high-profile story-line involving Olly and his ex- girlfriend, Gabriella Ellis, Chloe left the show after just one season.
7.She's been at the center of split rumors
In May 2019, rumors of a split between Chloe and finance Jeremy Meek began to fly. Meek, who was rumored to have abandoned Chloe for the attentions of Romanian model Andreea Sasu, has been keen to put the rumors to bed. The 35 year old ex-con- turned- model took to Instagram to post a picture of him and Chloe getting up close and personal in front of a lake. "We are still very much in love lol," he captioned the romantic snap.
8. She's stayed silent on the allegations about her dad
In October 2018, allegations of racism, bullying, and sexual harassment surfaced against retail tycoon Phillip Green. Green, as you'd expect, has flatly denied the accusations and insisted firmly on his innocence. Daughter Chloe, on the other hand, has been notable for her silence on the subject. As reported by the Mirror, Chloe stayed resolutely away from social media at the height of the scandal, which, given the seriousness of the allegations involved, may have been a wise move indeed.
9. She dated Jennifer Lopez's ex-husband
Chloe has form when it comes to bagging herself an eligible bachelor or two. In February 2013, the Topshop heiress was linked to Mark Anthony, ex-husband of none other than Latino superstar, Jennifer Lopez. Chloe met Anthony through her father, who's an old friend of the singer-songwriter. The relationship started well, with the pair regularly snapped by paparazzi looking well and truly loved-up. However, by April that year (and within just weeks of Chloe ditching the UK to set up home with her LA Lover) father of five Anthony called it quits. According to The Daily Mail, the reason for the split came down to that old favorite, "busy schedules".
10. She's worth $100 million
When you consider that most millennial's struggle to make it to payday without breaking into their overdraft, Chloe's fortune is truly exceptional. The socialite is worth a pretty incredible $100 million. Those boardroom sessions really paid off…