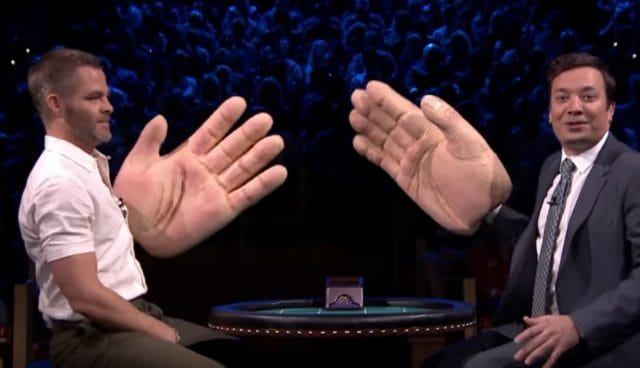 It's segments like these that make me love The Tonight Show and a preferred choice over The Late Show with Stephen Colbert.  And let me get something straight.  I like both shows and it's nice to know that I know exactly what I'm gonna get when viewing each.  If I'm in the mood for politics I head over to The Late Show.  If I want to see celebrities doing stupid stuff and get some vintage Fallon like how he used to be on SNL and always is, I head over to The Tonight Show.
Let's face it, The Tonight Show is not your typical late night talk show, nor has it ever been.  It's really just Jimmy Fallon planted in his own area free to do whatever he wants.   And the party just doesn't stop.  Last night Chris Pine stopped by to of course engage in something completely random.  It was a game where the loser gets slapped in the face with a giant hand.  Simple, random, nothing more or nothing less.
This is "Slapjack" with Chris Pine.  If you've ever wondered what it would look like to see Chris Pine slapping Jimmy Fallon in the face with a giant hand, wonder no more.