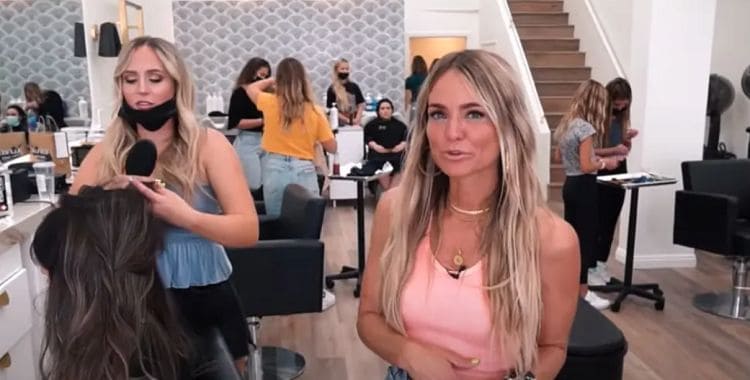 Anybody who knows anything about the Instagram influencer world knows that an appointment at Habit Salon with the insta-famous @hairby_chrissy is the most coveted appointment in the states. Million-follower influencers such as Laura Beverlin and Emily Herrin, as well as plenty of other smaller influencers, actresses, and famous internet stars, have their envy-inducing hair done by Chrissy Rasmussen. She's the best of the best, and her clients adore her. Her salon is famous for perfecting long, thick extensions that look perfectly natural, beachy waves, and the most amazing braids you've ever seen. Her clients love her so much they fly from all over the country to sit in her salon every few weeks – and we can see why. Unfortunately, she's been under fire lately because it seems no one is wearing masks in her salon. The salon is located in Gilbert, Arizona. While the state of Arizona does not have a mask mandate, the state government states, "masks are required for employees and customers of barbers and cosmetologists," and the city of Gilbert does have its own mask mandate for all indoor facilities.
1. She's Also Got a California Location
It makes a lot of sense that Chrissy Rasmussen would open a new location in Los Angeles thanks to the fact that her salon is one of the most successful in the country. She recently opened her LA salon, and it is also under fire after many influencers posted photos of themselves getting their hair done sans masks.
2. She's Been in the Game a Long Time
Chrissy Rasmussen is not good at what she does by accident. She's the best because she's worked long and hard to be the best. She's been styling her clients since 1997, and we can see why. She does an amazing job.
3. She is in Her 40s
Not that you'd ever know it. She was born on August 19, 1976, and she doesn't show her age at all. We are firm believers that 40s are the new 30s, and she definitely looks more like someone in her early 30s than someone in her mid-40s. Good for you, Chrissy Rasmussen. Keep that up!
4. She is a Proud Mom
If she's proud of one thing in her life (and we think she's proud of many things in her life), she is proud of her kids. She and her husband have four kids, and each one is adorable. She doesn't share too much about her family online, and we respect that from her.
5. She Began Doing Hair in the Attic
Two decades ago, she was ready to do this thing called becoming a business owner. She and her husband decided that they would open up the salon in a one-room attic. She and her sisters worked there, and they did what they could to make it work out. It's grown just a *little* out of that attic over the years, and we know they are a great team to make this happen.
6. She has a Dream Client
It doesn't matter what line of work you are in, it seems that everyone has their own idea of a dream client. Chrissy Rasmussen is a woman who wants to work with Britney Spears. Who wouldn't? She's a fashion icon, a legend in the pop world, and one of the most famous faces out there.
7. She's Had her Fair Share of Unfortunate Moments
She might be the best of the best in the world of hair and styling, but she's had her moments. Not every client is a famous celebrity, reality star, or Instagram influencer. She had a beauty school client – her very first one – sit down in her chair with a head filled with lice. Nothing seems more disgusting than that, does it?
8. She Derives Satisfaction from Her Job
Honestly, that's the most important thing in the world. If you don't feel satisfied and accomplished doing what you do, it's time to find your dream and follow your passion. Rasmussen finds a lot of joy in what she does because she's able to help people become more confident. What's more beautiful than being the person in someone's life who makes them more confident? When someone is confident, it radiates out of them like sunshine, and it brings so much goodness to their lives.
9. She's Very Private
It is not easy to be a private woman when you are a TikTok star, an Instagram influencer, and the owner of the most famous salon in the country, but she does it. She keeps her family Instagram page private. She doesn't spend much time sharing photos of her kids online for just anyone to see, and she keeps her private life to herself. We love that about her.
10. She's Driven
This is a woman with a lot of drive. She's never going to be someone who settles or thinks something is too hard to achieve. She's always going to believe she can reach her goals, and she's not going to stop. She's strong, and she's going to take the criticism coming her way right now and she's going to get through it and move on from it with a greater sense of strength.