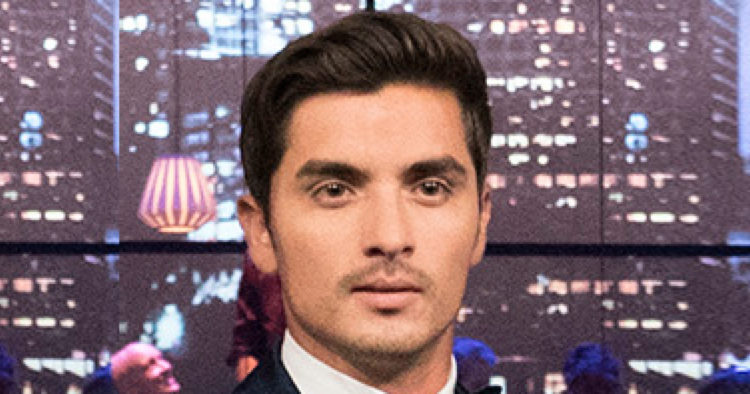 Being rejected on a date is painful, but it is even more distressing when you face several rejections. Christian Estrada has been a victim of rejections in reality shows that he has been cast. Despite all this, he is still confident and is ready for the next episode of "The Bachelorette" hoping to meet his match. Christian was born in 1990 in Mexico and later moved to the US in 1993 with his mother. He went to school in San Diego and then started his career. He has risen to fame being part of the cast in many shows. Get to know more about Christian by checking these facts about him.
1. He is from Mexico
Christian Estrada is currently in the United States but was born in Mexico. He did not spend much of his life in Mexico since they moved with his mother to the US when he was three.
2. He is a model and a banker
Modeling and banking are two different careers that are worlds apart; modeling is casual, while banking is more formal. Before coming to the reality show, Christian used to work in the bank. His career, as described by ABC, is that he is a banker. Christian works in Wells Fargo as a premium banker. He is also a model due to his passion in the field. He loves to dress like a model evidenced by the chains and the stylish clothes that he wears. He appears bare-chested in most of his photos, and there are visible tattoos on his body. Modeling seems to be his favorite since it goes hand in hand with the reality show. Each person presents himself in the show looking as elegant as possible.
3. He was a soccer player
Parents can determine what their children will do. Christian's mother was a great fan of soccer, and the love of soccer later passed on to the son. While he was still young, Christian started playing soccer. He played for the semi-pro teams, but his soccer career came to an end when he got an injury. The injury forced him to retire from soccer and try out something else. While he was active on the soccer field, he played for teams like San Diego Flash and Seattle Sounders.
4. He is unlucky in love
Facing several rejections, especially by a girl you love is never an easy thing. It might lead to having lower self-esteem, and Christian has borne the pain of rejection one too many times. We can term him as the unlucky one in love. In all the shows where he has been contesting, he has never found his match. The rejections do not make him lose hope as he is always ready for the next show expecting the best out of it. From the number of shows that he has ended up unsuccessful, people may think that he needs to find his lover somewhere else and not on television.
5. He has a temper
Some people have short tempers and can easily engage in physical battles in case of an issue, and Christian is one of them. During the episode of "Bachelor in Paradise" on Tuesday, August 13, 2019, Christian Estrada and Jordan Kimball got into a fight over Pinata. They already had beef before the show according to US Magazine. During a previous confrontation by Nicole Lopez, Christian, and Clay Harbor, Clay won Nicole. Christian, on the other hand, wanted to steal Nicole later after the date. They ended up arguing but Nicole remained with Clay. Clay is a close friend to Jordan, and when the beef between Jordan and Christian came up, he tried assisting. Christian did not allow him to stop them, and Clay walked away. Jordan was not happy with this, and it resulted in a physical fight between the two. The fight, however, did not get out of hand since security officers intervened.
6. He might be dating another reality star
If things do not work as he expects in Paradise, then there is light at the end of the tunnel for him. Another TV contestant has taken her Instagram stories to post Christians photo with a good caption on it. She claims that she gets blind over Christian and uses an emoji with the love sign. The TV host who has shown love for him might change his narrative from the usual tendency of being kicked out of dates. Christian seems to be in line with this since he reposted the story in his timeline, according to Refinery29.
7. Has a lavish lifestyle
Christian is one person who lives a very luxurious life. We can see this through his Instagram accounts, where he poses in designer clothes and fancy cars. Christian indeed believes in himself being a hot cake. According to Distractify, he says that he faces rejection since the ladies in the show have not seen what he has to offer. Unless he is interested in a gold-digger, it is hard to believe that a man would think that money is all a woman will look for in a suitor.
8. He drinks alcohol
Christian is a heavy consumer of alcohol and uses the drink to pass the time. There is a photo on his Instagram account, where Christian poses with different brands of alcohol. He appears at night clubs with friends for drinking sprees.
9. He loves horse riding
Just as people have different types of animals, Christian is in love with horses. Christian takes some horse rides with varying breeds of horses sometimes and posts the experience in social media. In one of his captions, he says that once you gain the trust of a horse, then you have won a lifetime friend.
10. His best feeling in the world
We all have that thing that when we do, we feel good. For Christian, his best feeling in the world is to see his mother smiling at him as he posted this on his Instagram. Christian had spent most of the time with his mother as they moved from Mexico to the US with the family when Christian was three. With the love he has for his mother, Christian wishes to see her happy at all times.