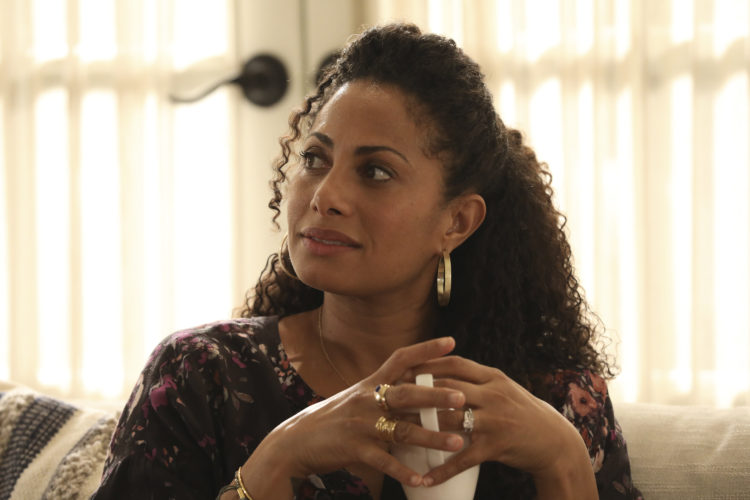 Christina Moses is an American actress who is best known for her role as Jana Mayfield on the limited television series "Containment" on the CW network. She also starred in another CW drama series titled "The Originals." She's spent a decade of her life so far in the acting business and she's gathered a collection of adoring fans along with way. For those of you who are interested in learning more about this bright and shining star, here are 10 things you didn't know about Christina Moses.
1. Her Birthday
Christina was born on January 24, 1978. This makes her 41 years old as of January 2019. She was born in Los Angeles California. She was raised in LA for the majority of her young life. She was exposed to the world of acting from the time that she was born. Her father was an acting teacher, a director, and a writer.
2. She is educated and a formally trained actor
Moses graduated from high school and went on to attend the Eugene Lang College of Liberal Arts at the New School University. She had moved to New York City to attend this desirable school. After graduating She taught black history through art. Christina was also involved in acting with performances in a variety of off-Broadway and community theater productions. This gave her a start in acting with stage experience. She spent a total of 9 years in New York City where she was involved in an ABC Talent Showcase in 2008 at the Acorn Theater. She secured an agent through the connections that she made at this time, before moving back to Los Angeles.
3. Her professional acting career launched in 1992
Christina Moses first started acting in 1992 in a minor role, and later, in several New York City theater productions. She moved back to LA in 2010. Although she appeared in the television movie "The Dollhouse Murders" in 1992 as a girl at a party, this was a minor role but it qualified her as a professional actress. She went on to appear as Kelly in "Machete Joe" in 2010, then in the television series "Nikita" in 201, followed by a role in "Crows" the same year.
4. Her career began to pick up in 2013
More work came Christina's way in 2013 as she appeared in the films "Head Case," and "Welcome to Hollywood…Florida." This was followed by a small part in the television series "Twisted" and a role as Lauren in the film short "Hidden Talent." The following year she appeared in four films which included "Odd Brodsky," "Starship: Rising," "Starship: Apocalypse," and "Without You." In 2016, yet more work came her way and she gained even more exposure through a variety of small parts in television series "Roadies," Young Hollywood," "Rosewood," for one episode appearances, and a recurring role in "Containment," as Jana for 5 episodes. She also appeared in the films "How We Met" and "Salt Water."
5. She's been busy in the past 3 years
From 2017 through the present, Christina Moses has appeared in several films and television series including recurring roles in teh television series "Condor," "The Originals," and the RV movie "Mission Control." Just this year she's been busy in the role of Nina Dunkleman in "Tall Girl," and as a detective in "Listen." She also appeared in episodes of "The One Minute Joe Show," and "A Million Little Things."
6. Christina Moses is also a producer
Moses served as the executive producer for the 2013 film "Head Case." She is expanding her horizons within the television and film industry, and although she hasn't yet tried her hand at writing or directing, it wouldn't surprise us to see that in the near future. Her father is a writer, producer, and director so she's had plenty of experience and coaching growing up.
7. Christina is active on social media
Moses has an Instagram account and she has gained a huge following of fans on the site. At our last check-in, she had already gained a total of 38.4 thousand followers. This tells us that there are thousands of admirers out there who want to stay in the know on her personal and professional life.
8. Christina's Instagram is a good place to find photos and news about her
Moses has been good about keeping her Instagram account current. She's very active on the site and so far she has made 1,246 posts. There are some pretty amazing photos of her both professionally and of her in her personal life. If you're a fan who wants to keep up on what's new and trending with Christina Moses, then follow her on Instagram.
9. She is a supporter of mental health charities
Moses has a charity link listed on her Instagram account. It's www.changedirection.org. When you click on the link you're taken to a site where you can get involved and donate to the cause and/or participate in the conversation on changing the culture of mental health throughout the world. It's a really cool site.
10. We expect to hear more from her in the future
Although Christina Moses is currently busy in her recurring role in "A Million Little Things," her fame is increasing and we believe that we're going to see more of her in film in the near future. She's a dynamic and versatile actress who is becoming a hot commodity in Hollywood. For now, she's being kept busy but She is an up can coming movie star in the making. Fans love to see her perform and this is good for filmmakers so it wouldn't surprise us to see her land some even bigger roles in the next few years to come. Christina Moses is an actress to keep your eye on.