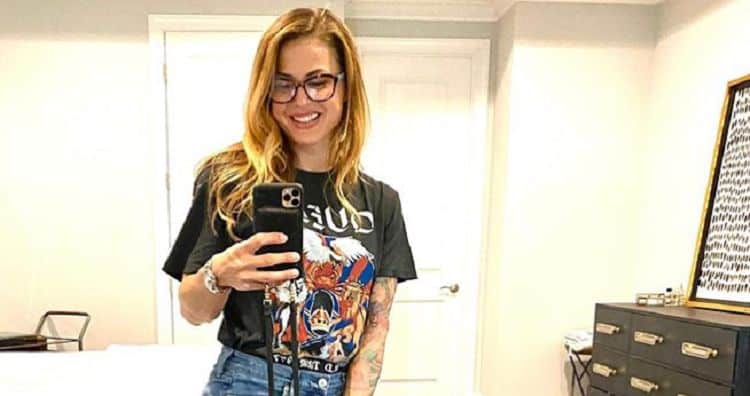 Thanks to her name alone, Christmas Abbott is impossible to forget. The Big Brother houseguest made her first appearance on the show during season 19 and is currently a cast member on season 22. Although she didn't win season 19, she came in third place and left a lasting impression on viewers and other house guests. Now that she's back in action, all of her fans from season 19 are looking forward to seeing how she does this time around. Her competitive nature made her a force to be reckoned with, and she's definitely someone to keep an eye on during this all-star season. Keep reading for 10 things you didn't know about Christmas Abbott.
1. She's A Brand Ambassador
Being on Big Brother has changed Christmas' life in more ways than one. Since being on the show, Christmas' has gained a large social media following that now includes 684,000 people on Instagram alone. Thanks to her large following, she has gotten the chance to become a brand ambassador and she has worked with several fitness brands.
2. She Was Arrested In 2018
Christmas' time in the spotlight hasn't always been positive. In 2018, news outlets reported that she has been arrested and charged with a felony. According to a story in The News & Observer, Christmas, who was pregnant at the time, was accused of repeatedly driving her car into another woman's car. Apparently, the women had been messing around with Christmas' child's father.
3. She's An Author
Christmas has a story to tell and she's passionate about sharing it with the world. She is the proud author of two books: The Badass Body Diet: The Breakthrough Diet and Workout for a Tight Booty and The Badass Life: 30 Amazing Days to a Lifetime of Great Habits–Body, Mind, and Spirit.
4. She's NASCAR's First Female Pit Crew Member
Being on Big Brother isn't Christmas' only claim to fame. In 2013, she became the only female full-time member of a NASCAR pit crew. Christmas hopes that her accomplishments will help inspire other young women to have the confidence to chase their dreams.
5. She's Battled With Addiction
Christmas' journey hasn't been without its bumps in the road. She has struggled with addictions to alcohol and drugs. She started smoking cigarettes when she was just 9-years-old, and was smoking weed and drinking by the time she was 13. Christmas eventually discovered fitness and begin to shift her focus towards working out.
6. She's Worked In Iraq
When Christmas was in her early 20s, she took a job in Iraq in the hopes that it would give her the opportunity for a fresh start. She said, "I went to Iraq after my mom, who took a job there a year earlier, convinced me that it would be a "unique, once-in-a-lifetime opportunity." So I gave it a try. After two weeks I had an epiphany during a mortar attack. I decided that I may die in some situation that I have no control over, so I should start taking responsibility for my own life."
7. She Has Her Own App
Christmas has dedicated her life to fitness and she's build a brand around it. Recently, she even launched a fitness based app called Christina Abbott Rebel Fit. She told What On What's Good, "This app is so much simpler and more aligned with a whole health concept. You get amazing effective workouts with entire meal plans that all build on the month before. You can also sign up for a monthly membership and get all the new programs as they are released!"
8.She's Still Friends With Other People From Big Brother
Being on a show like Big Brother is something not very many people get to experience. For that reason, those who have been on the show have an unbreakable bond. Christmas still has good relationships with many other former houseguests and considers them like family.
9. She Wasn't Always An Athlete
Exercise and fitness are huge parts of Christmas' life, however, that wasn't always the case. She didn't grow up playing sports and wasn't an athlete in high school or college. Christmas didn't discover her passion for working out until she was in her mid 20s. Once she realized that a regular fitness routine was good for her mental and physical health, she never looked back.
10. She Wasn't Actually Born On Christmas
With a name like Christmas, most people would assume that she was born on Christmas day. Surprisingly though, her birthday isn't on Christmas. However, since she was born so close to the holiday (December 20), her mom decided to honor the season by naming her baby Christmas.