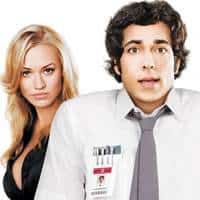 Josh Schwartz and Chris Fedak, producers of the NBC show Chuck, recently spoke to the press during roundtable interviews at Wondercon, giving some insight to the direction of the show, and the possibility of a third season. Chuck has been a critical success for NBC, but the ratings have been somewhat lackluster lately, which could be attributed to both the timeslot it occupies (Monday's at 8 p.m. EST) and the fact that it was one of the new shows during the plagued writer's strike of last year.
Schwartz maintains a positive attitude about a third-season pickup saying, "The network has been incredibly supportive of the show, and there's a lot of internal support for the show. Creatively, they're really happy with the show. They recognize the challenges of the time period we're in and all of the sort of hiatus impediments that have been thrown in our way. So I think, you know, on that level it's very positive. But, you know, we still have several more months to go, and … it's very competitive, [up against ABC's] Dancing With the Stars this year. Will Jewel out-dance Denise Richards? I know that I can't wait. And Jewel's husband also, go with the soft shoe, he's in there. Yeah, yeah. So, um, so you know, I think we feel very, very optimistic, and we feel really, really good about the show creatively, and I think you know, everything that we can control, we feel very good about."
Despite the lack of a set-in-stone third season, Fedak and Schwartz also said that they would be concentrating some on the "sci-fi underpinnings of the show," including the secrets of the Intersect. "That kind of rabbit hole, and that kind of mythology of how it works, we'll be getting further into it," said Fedak.
Schwartz also spoke of the approaching season 2 finale, saying, "It will end in a way that's going to launch the show into season three with a real–it's a game-changer. I think that it'll be immensely satisfying in its own right, but it also really, really launches the show in a way that, you know, we're already breaking season three stories and can't wait to start telling them."
Schwartz confirmed that they would have taken this direction on the season finale regardless of whether they had a definite pickup for season 3, or even if they knew the show had no future. "This is our finale. This would be our finale whether we knew we were picked up, whether … we were picked up for next year or five years. This is what we've been wanting to do for a while, and we've had this planned since the beginning of season one."
On the bright side, Fedak and Schwartz will be pitching some of their season 3 ideas for Chuck to the NBC brass this week, so keep your fingers crossed that this show gets picked up for what sounds like its going to be a fantastic 3rd season.
The finale includes guest stars Scott Bakula, Chevy Chase, Morgan Fairchild and Bruce Boxleitner. Chuck airs on Mondays at 8 p.m. ET/PT.
Source: Sci-Fi Wire