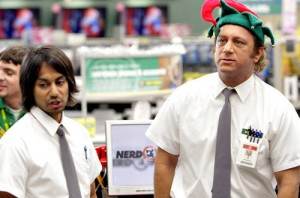 Although Chuck premieres in mere days (Monday, September 20 at 8:00pm EDT/PDT on NBC), some of us Chucksters just can't wait until then for new Chuck content. Well, here's some great news: We don't have to wait! Thanks to a partnership with Microsoft Xbox and the new game Halo: Reach, five new Chuck web-only minisodes will be premiered on the web over the next week, leading up to the new edition of Halo's release on September 14th. The series is titled "Chuck Presents – Buy Hard: The Jeff and Lester Story." If you remember, Jeff and Lester, believing they have destroyed the Buy More in the season finale, are on the run from the law. Since they are Jeff and Lester, however, no police dragnet will prevent them from getting their hands on the new Halogame. This five-episode series will follow the Buy More guys on their search. Now, where can you find these webisodes? According to the press release:
JEFF AND LESTER ARE ON THE LAM AND IN SEARCH OF A COPY OF THE NEW HALO: REACH VIDEOGAME IN 'CHUCK PRESENTS — BUY HARD: THE JEFF AND LESTER STORY,'AN ORIGINAL DIGITAL SERIES LAUNCHING SEPTEMBER 7 ON THEWB.COM AND ON 'CHUCK'FAN SITES ACROSS THE INTERNET

Warner Bros. Television Group, 'Chuck'and Microsoft Team Up on Webisodes in Advance of Release of Halo: Reach on September 14 and Fourth Season Premiere of 'Chuck'on NBC on September 20 (8 p.m. ET/PT)

Twitter Pitch: Jeffster! on the lam + ISO the new Halo: Reach videogame in original #Chuck webisodes! http://bit.ly/d8KErb@thewbdotcom #Halo #Xbox

BURBANK, Calif. (September 7, 2010) — In advance of the fourth season premiere of 'Chuck'on September 20 on NBC (airing Mondays at 8 p.m. ET/PT), fans of the acclaimed action-comedy series can catch up with their favorite program through 'Chuck Presents — Buy Hard: The Jeff and Lester Story,'an all-new, five-episode original digital series debuting today – Tuesday, September 7 – on TheWB.com and a number of select 'Chuck'fan sites across the Internet. The digital series will also be available at Xbox.com/halo and Xbox LIVE shortly after debuting on TheWB.com.

In the season three finale of 'Chuck,'Jeff (series star Scott Krinksy) and Lester (series star Vik Sahay) think they've burned down the Buy More, and they take off in their van, in a panic. Now, fans can catch up with the hilarious duo in five original webisodes (two—three minutes in length), as they hide out in the van, on the lam but still obsessed enough with videogames that they embark on a quest to track down a copy of the new Halo: Reach. Their search takes them to the Encino Buy More, where they inadvertently run into Big Mike (series star Mark Christopher Lawrence). Will their mission be a success? Log on for 'Chuck Presents — Buy Hard: The Jeff and Lester Story'to find out.

'CHUCK'AND HALO: REACH LAUNCH DATES
Tuesday, September 7: Webisode 1 (premiere) debuts online
Wednesday, September 8: Webisode 2 debuts online
Thursday, September 9: Webisode 3 debuts online
Friday, September 10: Webisode 4 debuts online
Monday, September 13: Webisode 5 (finale) debuts online
Tuesday, September 14: Halo: Reach released at 12:01 a.m.
Monday, September 20: 'Chuck'season four premiere on NBC at 8 p.m. ET/PT
As it says above, the first episode debuts today at TheWB.com. Or, you can see the first episode below!!
So, what do you think about this first webisode? Is it whetting your appetite for Chuck's return on September 20th? Sound off in the comments section below, or in our Chuck Forum. For a plethora of Chuck news, notes and promos, please make sure you check out our Chuck hub here.