Last week's Chuck episode "Chuck Vs. The Frosted Tips" re-introduced Mekenna Melvin into the mix as Alex McHugh, daughter to John Casey (Adam Baldwin) and love interest to Morgan Grimes (Joshua Gomez), who found herself coldly dumped via text message from an Intersect-affected and unfeeling Morgan. But surely we've not see the last of Alex, no?
We recently had a chance to speak to the Chuck star on what's to come for Alex in Chuck's *supposedly* final season, and just how she'll ever get over that brutal "DMPD'd" text message" Will Alex sign up with Carmichael Industries looking to exact vengeance on her man, or re-learn to love the bearded bandit? And what of her father's new love interest, Gertrude Verbanski (Carrie-Anne Moss)?
Read on for answers to these and more, and don't forget to watch Chuck's fifth season Friday nights at 8pm on NBC!
TVOvermind: Thanks for talking to us, I'm sure you have a busy schedule. Have the 13 episodes wrapped already, or are you still filming?
Mekenna Melvin: We're still filming, we're on 10 and 11.
TVOvermind: Okay, getting pretty close to the end! Must be exciting.
Mekenna Melvin: Getting close to the end! Kind of bittersweet.
TVOvermind: So we've seen the first three episodes, and you don't really pop until the third, 'Chuck Vs. The Frosted Tips.'So how often will we expect to see you in these thirteen episodes?
Mekenna Melvin: My character has a pretty good arc this year, I'm really excited about it.
TVOvermind: What's in store for Alex this year?
Mekenna Melvin: Well obviously there's a lot more stuff in terms of Alex and Morgan's relationship that's explored, a lot of hilarious, funny stuff now that Morgan has the Intersect, and how that plays into their relationship, as well as her relationship continuing to develop with her father, and it allows her to get mixed up into some fun situations where maybe people have to help her!
TVOvermind: That's something I was always curious about, because Alex was made aware of the spy world eventually, but it wasn't really clear how much she knew about the Intersect. Now that it's Morgan, is she up to speed on everything?
Mekenna Melvin: As the season goes on, everything in smaller ways becomes more and more clear to her. But you're exactly right, she kind of understands what goes on, but she's not in the inner circle, she doesn't know all the exact facts. But obviously, as the season goes on and Morgan having the Intersect, a million different things happen the more information she finds out as she goes.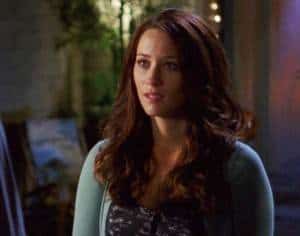 TVOvermind: In 'Chuck Vs. The Frosted Tips,'Morgan definitely does some damage to the relationship, is that something that gets fixed quickly, or takes a bit of time to undo?
Mekenna Melvin: It takes some time, you've seen the episode!
TVOvermind: Right, those tips really did a number on all of us. So, you have such a physical background, you're a first degree blackbelt and everything, I'm sure you'd love to get your hands dirty with some of the missions and action sequences. Will Alex ever join the team in any capacity? Now that they're freelance, Alex wouldn't need any government clearance.
Mekenna Melvin: You're exactly right, I would love to, that's something that's so much fun. I had a blast the first season I was on, where I got to do a teeny little thing with Adam [Baldwin] where I got to kick his butt, and that was my highlight, I feel like that season. But I don't know! We'll see. We still have a few more episodes, she definitely gets into the mix a little bit, but not particularly in the spy world, if that makes sense without giving anything away, which is really difficult to do!
TVOvermind: Obviously another thing going on with her father is the Gertrude Verbanski (Carrie-Anne Moss) thing, Casey's new love interest. What's Alex's take on that?
Mekenna Melvin: You know, I think Alex just really wants her father to be happy
TVOvermind: Does that ever come into conflict with Alex's own mother, Kathleen?
Mekenna Melvin: Hmm…couldn't tell you!
TVOvermind: So now that Casey doesn't technically belong to the government anymore, he's freelance, how does that change the relationship with Alex? Is there less secrecy between the two?
Mekenna Melvin: Well, it wouldn't be Chuck if there wasn't secrecy. That's what allows all the comedic elements in a lot of ways, so there's definitely still secrecy.
Keep reading For Mekenna's favorite Chuck moments, and more on what's to come in season 5!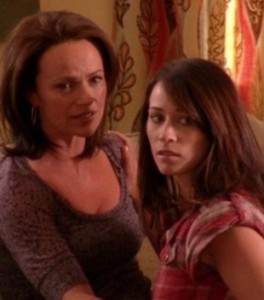 TVOvermind: So you came on to Chuck for one line in season 3 initially. Were you aware of the show at all before that?
Mekenna Melvin: Yeah! Of course I was aware, I'd see the billboard every time I went into Burbank. But yeah, it was one word, it wasn't even a line, and the word was 'mom.'So I definitely could not have, even in my wildest dreams imagined that it would turn into what it turned into for me.
TVOvermind: Yeah, and considering the show itself, and all the drama surrounding cancellations and renewals, all that it's been through, what's your take on the show achieving its incredible cult status? First it's in jeopardy, then renewed, in jeopardy, renewed, now it has a final thirteen episodes, or *final* thirteen episodes to wrap things up.
Mekenna Melvin: It is one of the most amazing experiences I've ever had. The fans are so incredible, it's beyond my wildest dreams. They reach out to you on Twitter (@MekennaMelvin), they fight so hard, and it feels really wonderful to be a part of something that so many people take ownership of. So when I come onto the scene, I'm totally the new kid, and as my character starts to grow I really want to make sure they like what I'm doing, because in a lot of ways they're the reason I'm here. It's their show, you want them to like what you're doing. It's overwhelming, in such a wonderful way.
TVOvermind: Why do you think the show struggled to find its audience as much as it did?
Mekenna Melvin: That's a really good question, I'm note sure. Maybe because it dances within two genres, publicity maybe, a million different things, I'm not sure. I really enjoyed it, although I have to say that my family back home didn't really know about the show until I did it, and then they got hooked on it! I feel like for whatever reason, there are some people who haven't gotten the secret yet, not only that it's a great show but that it's even out there, and why that is I'm unsure. Generally, they love it
TVOvermind: While it would be great if Chuck could go on for years to come, now that they have these thirteen episodes more or less set in stone, is it a relief to know how Chuck plays out conclusively?
Mekenna Melvin: I guess it's fun to find out how they wrap up the story, but obviously I'm sad to see it go. This was a huge, life-changing experience for me, I was a waitress before I got this job, getting guest stars here and there. So for me, it's sad, but it's always exciting because of that saying, 'the end of one chapter is the beginning of the next,'but the writers do such a good job of wrapping it up that I think everybody's going to like it, and I definitely enjoy the way its all happening
TVOvermind: What have been your favorite Chuck moments to play?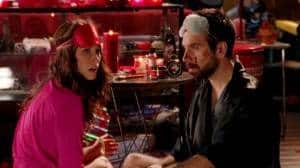 Mekenna Melvin: Obviously that one with Adam, the chocolate scene from last season with Morgan for Valentine's Day (Chuck Vs. The Masquerade) was probably one of the most awkward and hilarious things I've ever done And this season, without giving too much away, this season I've had so much fun. Maybe because the energy on set is different too, because A) I know everybody a lot better this year, and B) I think because it is the last season, everybody's having a lot of fun with it…so pretty much every scene I've worked on this year, I've really had a great time.
TVOvermind: The chocolate thing actually reminds me of something…fairly interesting…now that Morgan has the Intersect, I couldn't help going to the awkward place of how that might come in to play with…special…skills for him and Alex. In the boudoir, let's say.
Mekenna Melvin: Well, a woman never tells, okay!
TVOvermind: Ha! I'm sure Chuck would be hesitant to use a billion-dollar brain supercomputer for nefarious purposes, but I could see Morgan sliding into that pretty easily.
Mekenna Melvin: Oh, I'm sure he does. I am sure he does.
TVOvermind: What can you tease us about this ongoing season?
Mekenna Melvin: Just that it's going to be 'awesome,'and such fun, fun, fun. A lot of great action and crazy twists!
———————————
What would you like to see from Chuck's fifth and likely final season? Sound off in the comments section below!