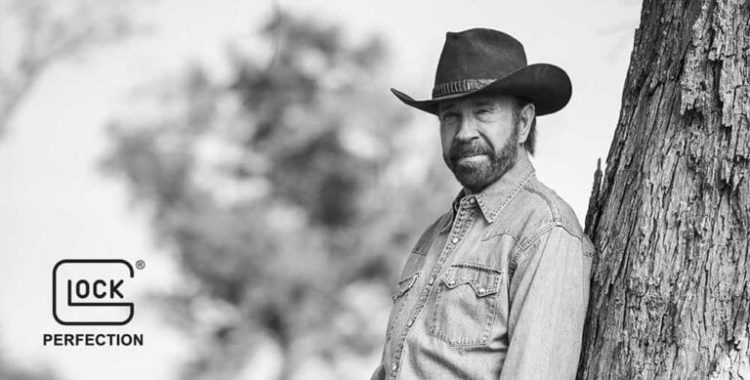 Well of course GLOCK decided to look at Chuck Norris as their new spokesman. Why wouldn't they? Norris is after all a perfect example of what hard work, dedication, and overall determination is all about in the eyes of so many. There are after all enough memes out there playfully by folks like Jeremy Laukkonen from Lifewire to exemplify just how tough Chuck really is and they've stuck since the moment someone mentions Chuck you get this image of a tough guy in a cowboy hat that can drop kick one guy and make his ancestors and his future descendants hurt. In other words, Chuck is the kind of guy you'd want to endorse a product that you want people thinking is nothing but the best.
Of course Glock has been able to secure its own reputation for a while now among many gun enthusiasts since it's been one of the most well-known names for so long. Chuck has definitely enjoyed the chance to endorse the company as Duncan Johnson from Ammoland has reported, and it would seem as though it's a good match. The man that filled the position before Norris was none other than R. Lee Ermey, or "The Gunny" as he was called occasionally. As many might know, Ermey passed away not that long ago and it was a sad day for a lot of us that had grown fond of seeing him in one movie after another, particularly when he was able to get back into uniform and terrorize one person or another with his hard, butt-kicking attitude. The man himself though was a kind and caring person as GLOCK puts it on their site and it's easy to see how true this was by watching him off screen.
Even those that are current or former military have thrown their support behind Norris' selection as the next spokesman for GLOCK and it's not really that surprising since Norris has been one of the biggest action heroes throughout his career and has been shown to be the kind of impressive character that a company like GLOCK would be attracted to. Ermey was no doubt an easy draw for the company since he'd served his country and knew what he was talking about, but Norris can say that he's impressed by the dedication and professionalism of the company and their strict adherence to quality. Whether or not he's the right man for the job has yet to be seen, but those like Jarhead6 seem to leaning heavily on the 'yes' column to indicate that Norris is well-respected and will no doubt do the job he's given without complaint or trouble.
Given that Norris is or was such a big action star and he's hit a certain age where he can't do it any longer it would seem his schedule is at least a little more open, though it seems that he does keep himself busy. The kind of opportunity to keep his name out there and be seen constantly is still something that you can't help but think that he's going to enjoy since Chuck has been such a public figure for the last several decades and is still a heavy fan favorite that a lot of people get a thrill from when he does show up. He's been plenty active throughout the years, racking up honors and awards, doing commercials, and just being himself. But honestly having one more thing under his belt wouldn't hurt, and he's definitely poised and ready to do it. Can you believe the guy is 79? A lot of us might know folks that are this old, but the chances are good that they're doddering and in need of assistance quite often. Chuck on the other hand has kept himself in such great shape that he doesn't look like he's anywhere past his 60s to be honest.
That could be another reason why GLOCK wants him, since it shows that he not only has longevity, which is something great for any company to desire and exhibit, but that he's got a fierce dedication to keeping himself in shape and adhering to the kind of self-discipline that allows him to stave off the ravages of time as much as possible. When you look at it this way that's what a lot of companies want to exemplify even when few manage to do so. The pairing here is great since the company wants to be seen as having a strong and commanding presence and Chuck Norris has had that for a good deal of his life. Of course if you go by the memes the day Chuck Norris was born was the day that WWII ended (obviously not but it is funny), or when Chuck Norris passed six kidney stones Thanos used them to form the Infinity Gauntlet. Oh yeah, they get a bit crazy, but it seems warranted.