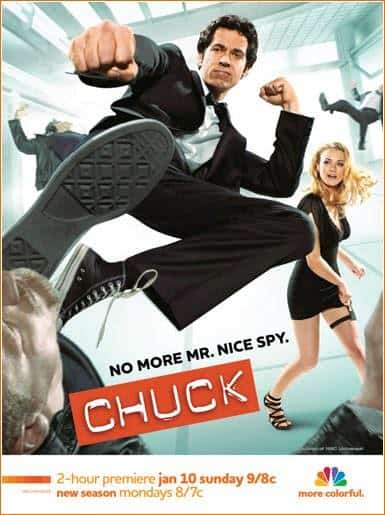 Chuck, unquestionably the greatest show on NBC, returns in January with its third season, which will reportedly consist of nineteen episodes (originally there had been an order for thirteen, but NBC asked for a back-six in late October). To get us pumped for the upcoming season, NBC has released a promotional poster that is quite different from the previous two Chuck poster efforts we've seen for the first two seasons of the show.
The first season poster just showed us a confused Chuck next to a very attractive CIA agent (Sarah Walker). The second season poster showed a slightly more confident Chuck framed by the long legs of Sarah. And while Chuck did seem more confident, he didn't seem very competent — all he had was a finger gun.
Seasons three's kickass poster changes that. The once meek Chuck Bartowski is now being shown as quite confident and assertive. After all, he is kicking in the face of some leather-wearing goon. And he's not the only one Chuck has defeated; two more such goons are flying backwards from the force of Chuck's newly uploaded martial arts.
Not to mention there's Sarah in the background, looking rather awed Chuck's flying fists. It's quite a reversal of dynamic for the two — she's usually the one fighting the bad guys. Perhaps his newfound assertiveness will also factor into the slowly growing romance between the two.
Chuck's third season will kick off (pardon the pun) with a two-hour premiere on Sunday, January 10 at 9/8c, and will resume its normal timeslot of Monday at8/7c the following week. While the second season of the series came close to being the last, a frenzied fan backlash persuaded NBC to give the show a slightly shortened renewal. Hopefully, season three will find a bigger viewer base and help the show get renewed for a season four. Because, let's face it, NBC needs this show.
Here's a side-by-side comparison of Chuck's three posters to date. What do you think? Is the most recent poster not the best yet? Let us know in the comments section below.