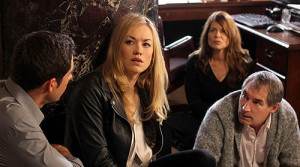 Tonight's all new episode of Chuck boasts three special guest stars: Linda Hamilton, Ana Gasteyer and the former James Bond himself, Timothy Dalton. Dalton and Gasteyer recently shared their thoughts on the show and their guest appearances.
Gasteyer spoke with TV Guide, who revealed that her character's face is covered in scars. She will be playing a very scary lady – a Russian assassin named Dasha who's out to get Chuck. As for how she plans on balancing her funny history as an SNL cast member and the scary Dasha, Gasteyer said this about appearing on Chuck:
"It's nice because it kind of gives you permission to be scary and action-oriented, but also not have to completely shut down your comedic side," she says. "[Executive producer] Chris Fedak said, 'I just want you to be terrifying. It's more interesting for me to see you be scary than funny on the show.'"
Dalton, meanwhile, will be playing the "handler" of Linda Hamilton's character (Chuck's mother). In fact, Dalton is set to play a recurring role for a period of time and is very much connected to Mary Bartowski. According to Zap2it:
"[He] is my handler, as they say in the MI-6," Hamilton told Zap2it when we visited a "Chuck" location shoot in late September. He also may hold the key to Mary's past — which, as we saw at the end of "Chuck vs. the Aisle of Terror" last week, is very much a subject of debate at the moment.
The co-creator of Chuck had this to day about Dalton's character, Gregory Tuttle, to TV Guide:
The sad truth: Tuttle himself is a disaster at espionage! "He's like a cross between Q and M in the Bond movies – he reads all the proper manuals but never goes into the field," says cocreator Chris Fedak. "Tuttle is a comic revelation who proves ill-equipped when Chuck [Zachary Levi] brings him into a world where bad guys shoot guns and throw knives. We really lucked out getting Timothy to play him."
Dalton hasn't appeared on a television show since the original Charlie's Angels, but he's thrilled to appear on Chuck tonight:
"I am knocked out by Chuck because it's so bright and anarchic," says Dalton. "It takes every cliché in the spy book and gives it a spin, then adds warmth and heart. Remarkable!"
Make sure to catch a new episode of Chuck tonight. Until then, you can check out some sneak peeks we posted for the episode.
clarissa @ tvovermind.com
twitter.com/clarissa373
twitter.com/tvovermind